Is giving your kitchen a much-needed makeover beneficial if you want to sell your house fast? Renovating one of your home's busiest – and most visible – rooms can seem intimidating, but have no fear! Whether you're hoping to get an improved return on investment or just want to feel good about selling a property with a significant appeal, delving into remodeling your kitchen could be beneficial. Read on for all the info you need to decide: is remodeling a kitchen before selling worth it?
Things To Consider When Remodeling a Kitchen
Embarking on a kitchen remodeling project can be exciting and daunting as numerous factors come into play. To ensure a successful transformation, consider these essential elements:
Budget and Priorities

. Determine your financial limits and prioritize the most crucial aspects of your renovation, such as appliances, countertops, or cabinetry;

Kitchen Layout and Functionality

. Analyze your current kitchen setup and identify areas where improvements can be made to optimize space and enhance efficiency;

Material Selection

. Choose materials that meet your aesthetic preferences and are durable, easy to maintain, and within your budget;

Appliances and Fixtures

. Invest in high-quality machines and fixtures that not only complement your kitchen design but also provide long-lasting performance;

Professional Assistance

. Hire experienced professionals who can provide valuable guidance and ensure your remodeling project is executed smoothly and on time.
By addressing these considerations, you'll be well on your way to creating a kitchen that combines functionality, style, and comfort.
How Much Does an Updated Kitchen Increase Home Value? 
Upgrading your kitchen is an investment that can pay off. A modern, stylish, and functional space adds value to any home because it appeals to potential buyers. You may increase the property's market value by up to 6% with a complete update package, including new appliances, fixtures, and cabinets – or even net around 1-3% from minor improvements such as painting or changing hardware. Investing in high-quality materials with a timeless design will maximize your return on investment should you decide to sell in future years. Whether it's through adding better functionality or aesthetic appeal – updating your kitchen is sure to be worth every penny!
Cost-effective Kitchen Upgrades to Boost Home Value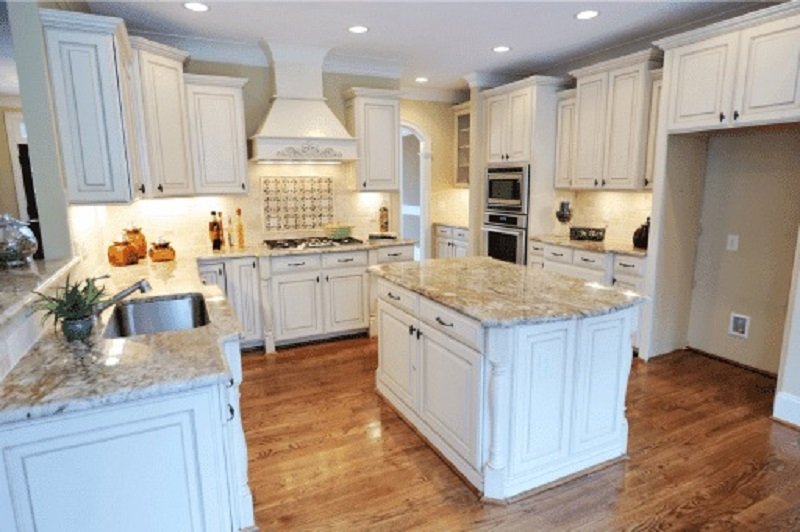 Upgrading your kitchen doesn't have to break the bank. Creativity and resourcefulness allow you to transform your cooking space into a stylish and functional haven without overspending. Here are five budget-friendly kitchen upgrades to consider, especially if you're looking to sell your house fast:
 

Refresh your cabinets

: Instead of replacing them, try painting or staining them for a fresh look. This simple change can dramatically alter the appearance of your kitchen.

Upgrade hardware

: Swapping out cabinet knobs and drawer pulls is a quick and inexpensive way to give your kitchen a modern touch, making it more appealing to potential homebuyers.

Install a backsplash:

A new backsplash can add visual interest and protect your walls from spills and stains. Consider inexpensive materials like subway tiles or peel-and-stick options for a cost-effective update that can contribute to your efforts.

Improve lighting

: Brighten your workspace with under-cabinet lighting or pendant lights above the island. This enhances the ambiance and improves functionality, making it easier for you to sell your home.

Organize storage

: Maximize your storage space by installing pull-out shelves, dividers, or lazy Susans inside your cabinets. This helps to declutter your countertops and improve the organization without significant renovations.
By incorporating these budget-conscious tips, you can achieve a stunning kitchen makeover while keeping your finances in check and increasing successful sales.
How To Start Planning A Kitchen Remodel Before Selling a House
Planning a kitchen remodel can be intimidating, but taking it one step at a time makes the process much more manageable. Before beginning, you should consider what type of kitchen you want and how it fits into your lifestyle; do you need extra counter space for entertaining or an island with a seating area? 
Consider the size and layout of existing appliances to help inform your design choices so that they fit appropriately in the available floor plan footprint. Determine if cabinet replacement or refacing is possible, as well as whether new plumbing fixtures will require installation – all these elements should factor into budget considerations to set realistic expectations for costs associated with renovation.
Best Time to Remodel Your Kitchen for Maximum ROI
You are looking to maximize your return on investment when remodeling your kitchen, and timing is critical. Experts often suggest that the best time for renovating a kitchen before selling a house is right after a market report reveals an uptick in home sales and prices – this usually indicates that buyers are willing to put more money into their home purchase. This way, you can take advantage of higher demand with customized upgrades while also getting back much of what was invested using increased property value post-renovation.
Sell House With An Outdated Kitchen
 But still, a home with an outdated kitchen doesn't need to be a burden or worry for sellers anymore. We Buy Houses companies offer easy and fast solutions that make selling such homes hassle-free. Working with these companies can provide an easy way out of the challenge, allowing you to sell your house fast for cash without making costly renovations or repairs.
So if you have been trying to "Sell My House Fast For Cash Jacksonville FL," don't waste time and money looking further; We Buy Houses For Cash companies are your best bet! Take the opportunity to get rid of all the anxiety and stress associated with selling such properties – reach out to cash buyers today and discover how quickly and promptly you can sell your property!
Read Also: 7 Effective Ways to Increase Your Home Value