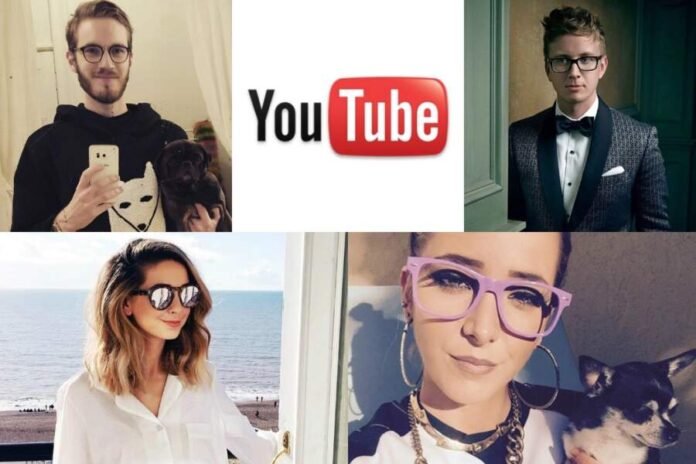 Pewdiepie is so famous as a content creator and Youtuber that he's now widely regarded as a figurehead for the gaming industry. Having started his Youtube channel in 2010, by 2013, it was the most-subscribed channel on the entire platform. By this point, Pewdiepie began to diversify, branching out from Let's Play videos to music videos, comedy shorts, vlogs, and formatted shows.
In 2016 Pewdiepie was named by Time magazine as one of the most influential people on the planet, and his content continues to have a huge influence on, for example, the sales of video games. 
The internet star is also noted for his sense of style – there's a run on whatever Pewdiepie is snapped wearing, and even his beard style has been known to set the tone for facial hair! Here, we're going to take a look at a key element of the Youtuber style: his glasses. He's rarely seen without either his standard pair of oversized black-rimmed eyeglasses or a sharp-looking pair of Ray-Bans – we take you through how to get his look below.
Ray-Ban Wayfarers
Pewdiepie's go-to shades are a classic pair of Ray-Ban Wayfarers. These iconic sunglasses are as versatile as the Youtuber himself, who has been snapped wearing them paired with casual outdoor wear, jeans, a fitted blazer, and blindingly-white sneakers, and a full suit and shirt combo.
Want to channel Pewdiepie's style? Try wearing your Wayfarers with a beanie and oversized sports jacket, or pair them with a monochrome smart number (think fitted pants and a black turtleneck) and add a piece of standout jewelry to complete the look. If you need prescription sunglasses, it's not a problem – all Ray-Ban models can be fitted with prescription lenses, so there's no need to compromise perfect style for perfect vision.
Will Pewdiepie's Sunglasses Suit My Face Shape?
One of the best things about Wayfarers is that they suit most face shapes – although they look particularly great on those with oval, round, and oblong faces. The classic Ray-Ban Wayfarers feature black frames and lenses. However, if black looks a little too harsh against your skin tone, or you feel it overwhelms your face, consider a pair with tortoiseshell frames for an equally classy look. For a more individual look, you could even opt for lenses in green, brown, or gray.
Ray-Ban Alternatives
If you like the Wayfarer shape but are keen to add a little more of your own personality, you have options! How about the Wolcott Wayfarer from State Optical? They're slightly smaller than the traditional Wayfarer from Ray-Ban, so they are perfect for those who find larger glasses tend to overwhelm their face.
Alternatively, if you want something a little more standout, opt for a pair of square black shades from luxury eyewear brand Tom Ford – they're sleek, timeless, and pretty much scream designer.
Oversized Specs with Temple Tips 
And for everyday wear, Pewdiepie opts for a pair of slightly oversized black framed metal glasses incorporating temple tips. The thin metal frames offset their larger shape, meaning, like the star's Wayfarers, he's able to match them with virtually any outfit. The Youtuber regularly appears in his videos wearing these particular specs.
Oversized glasses with black frames offer a geek-chic look with an added edge and are an easy way to add attitude to even the most formal of workwear outfits or casual of weekend clothes.
Will Pewdiepew's Temple Tip Glasses Suit My Face Shape?
As with the Wayfarers, round or oval glasses with temple tips tend to suit most face shapes. When choosing frames, a good rule of thumb is to choose a shape that contrasts with your face – for example, if you have a square face, round glasses will likely suit you best. However, the temple tip element of Pewdiepew's preferred eyewear adds an element of angularity to the frames, meaning that they can be worn by pretty much anyone and look fabulous.
There is the oversized nature of the glasses to consider, however. While the thin frames make them easier to wear on this score, those with small faces still may find them to be overwhelming. Don't worry, though; we have an alternative option below.
How to Wear Oversized Glasses if You Have a Small Face
If you find it difficult to wear oversized specs like the ones sported by Pewdiepew, there is a solution! The hottest trend this season is transparent frames – these clear-framed glasses are comparatively much less obtrusive than standard eyewear, and so even those with small faces are able to wear oversized shapes. If you love the oversized glasses look but have always struggled to pull it off, clear glasses could be the solution you've been looking for!
The Takeaway: How to Get Pewdiepie's Eyewear Style
Use the guide above to get Pewdiepie's eyewear style, whatever your face shape! The beauty of both the star's favorite designs is their versatility, meaning you can pair these styles with a wide range of casual, work, or going-out wear. Try experimenting with clear frames or bolder options to adapt Pewdiepie's unique look to your own personal aesthetic.
Read Also: Khai Hadid Malik, The Daughter Of Zain Malik & Gigi