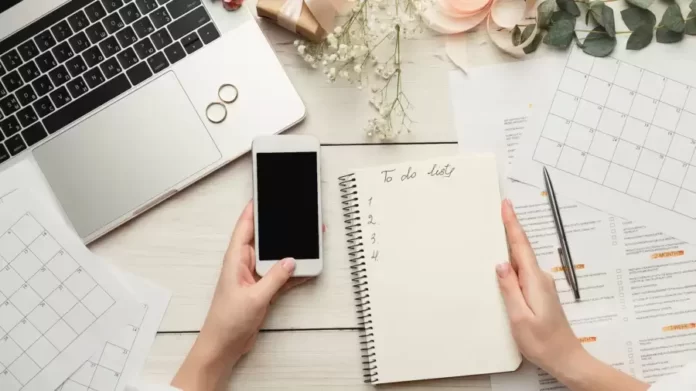 These are the top 12 wedding planning apps in the market right now. Wedding apps come in different varieties, each with its own focus. Some apps, like AllSeated and Pantone Studio, are for specific tasks like photo sharing and choosing colors. Pinterest is great for finding inspiration. Then there are apps like The Knot Wedding Planner and Appy Couple, which offer a wide range of features like checklists, RSVP management, vendor tracking, and wedding websites.
Choose the app that meets your needs. If you only need help in certain areas, you can pick a niche app for those specific tasks. However, if planning your wedding feels overwhelming, a comprehensive app with organizational tools can help keep you organized and reduce stress.
1. WeddingHappy
WeddingHappy is like having a personal wedding planner on your phone. Simply enter your wedding date, and it will create a customized timeline to help you stay on track. You can see how many days are left until your big day, track your payments, and get a summary of your spending. It's easy to share with your partner and keep track of your vendors. Also, the app sends you helpful notifications, and everything can be managed from a simple dashboard. The best part? It's free to use, so you can give it a try without any commitment.
2. Joy
Joy is a fantastic tool for managing your wedding guests and invitations. With Joy, you can create a stunning wedding website and easily add your guest list. Also, it helps you send Save the Dates and invitations, and you can easily track RSVPs. It even offers a wedding registry feature. Joy also acts as a private social network, where you can create guest profiles and share photos. You can use Joy on your computer or as a mobile app, and the best part is that it's completely free to use. It's a great way to stay organized and make your wedding planning easier.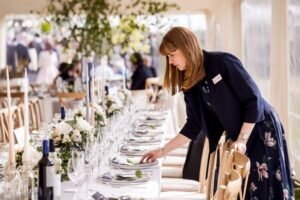 3. The Knot Wedding Planner
The Knot Wedding Planner is a super helpful app for planning your wedding, and guess what? It's free! It starts with a fun quiz to figure out your wedding style, and then it offers lots of useful features to make your dream wedding a reality. You can find vendors and venues, manage your guest list, create a wedding website, set up a registry, keep track of your to-do list and budget, countdown to your big day, and even plan out your wedding timeline. Also, the Knot Wedding Planner keeps everything organized so you can relax and enjoy the process.
4. Zola
Zola is a great app for planning your wedding. It offers lots of helpful services like creating a free wedding website, designing printed invitations (for a small cost), managing your guest list, and providing a wedding checklist. One standout feature is the registry, where you can register for gifts from Zola and other websites. Zola makes it easy for guests by allowing them to shop in one place. You can also set up cash funds for your honeymoon or charity. Also, Zola has excellent customer service with free returns, easy exchanges, and a 20% discount after your wedding. You can use Zola on your computer or mobile app.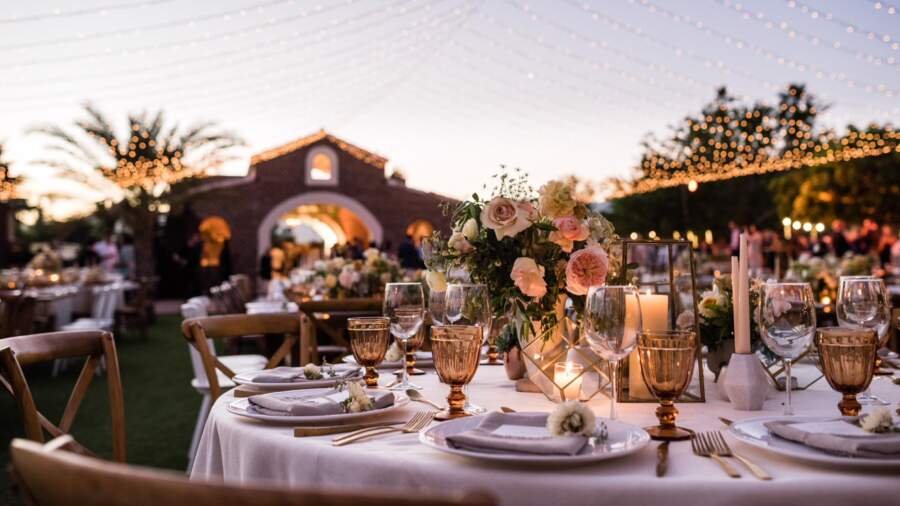 5. Mint
Mint is a really helpful app for managing your money, even for weddings. It's free and easy to use. You connect it to your bank account and credit cards, and it helps you keep track of your bills and spending. Weddings can be expensive and cause stress, so having an app that helps you budget is important. With Mint, you can create a wedding budget and it sends you weekly email summaries and text reminders to help you stay on track with your spending. Also, it's a great tool to keep your wedding costs under control.
6. Pinterest
Pinterest is a super helpful website to find inspiration and save your favorite ideas. You can search for anything related to weddings, like rings, invitations, dresses, cakes, and more. When you find something you like, you can save it to your own board. It's like having a special place to keep all your wedding ideas organized and easy to find. With Pinterest, you'll never forget the things you love and can easily share them with others. It's a great way to get ideas and make your dream wedding a reality. Also, it contains a lot of sketches and all.
7. Pantone Studio
Pantone Studio is a special app that helps you choose the perfect colors for your wedding. It has thousands of colors to explore and lets you create a palette to try out on virtual materials. This way, you can see how your bridesmaids, flowers, and decorations will look together. Also, it even has a feature that identifies colors in photos. The app costs $4.99/month or $29.99/year. If you're moving into a new apartment, the yearly subscription can also help you with decorating. Just remember, it's only available for iOS devices, not Android.
8. AllSeated
With the AllSeated photo sharing app, you can see all the photos taken by your wedding guests right away. Here's how it works: First, add your guest list and invite them to download the app. When your wedding starts, guests can take photos with their phones, and the app automatically shares them. This continues until the wedding is over. Afterward, you'll receive a free album with all the photos taken by your friends and family. It's a simple setup that only takes about 10 minutes before your big day. Also, the app helps capture special memories from your wedding that you'll cherish.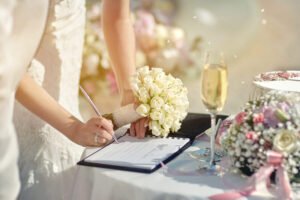 9. LadyMarry
LadyMarry is a free app that helps brides stay organized and paperless. Just enter your wedding date and location, and the app will create a personalized checklist for you. It's super quick, taking only about 3 seconds. Along with the checklist, LadyMarry provides helpful tips, a wedding countdown widget, and the ability to collaborate with your wedding preparation team. While it doesn't have budgeting tools, you can add notes that match your customized checklist. Also, it's a handy app to keep everything in order for your special day.
10. Appy Couple
Appy Couple is a versatile wedding planning app that offers many useful features. It's especially great at creating beautiful wedding websites that can be personalized. You can also manage your guest list, send invitations and collect RSVPs, set up registries, provide travel information, and even have virtual toasts. There's also a guestbook and a way to collect photos from your guests. However, keep in mind that this app comes with a price. The Appy Boutique version costs $49 and has a limited selection of website designs, while the Appy Luxury version costs $149 and offers unique designs from exclusive designers.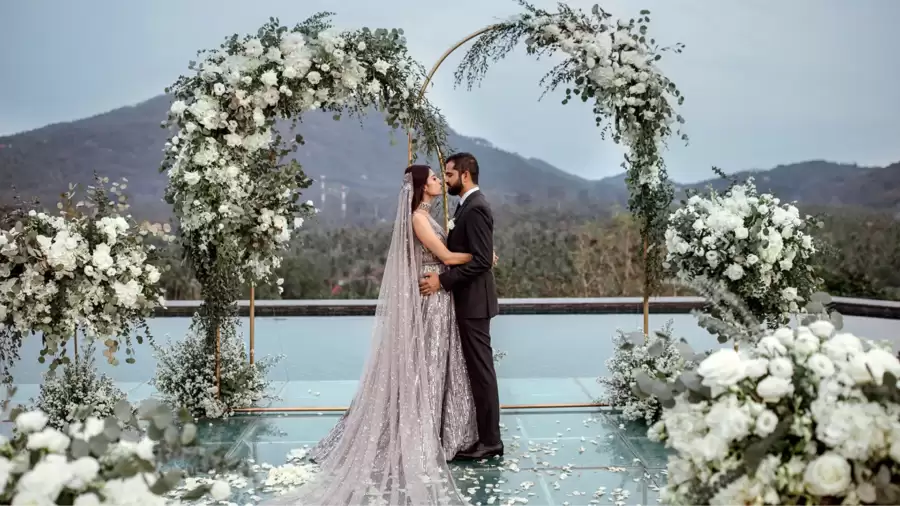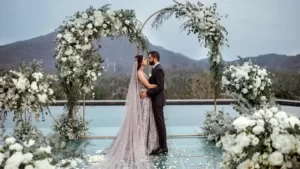 11. Carats and Cake
Carats & Cake is a great website to get ideas for your fancy wedding. It features real weddings, so you can see how other couples planned and decorated their special day. Whether you want a bohemian-style wedding or one by the waterfront, you'll find plenty of inspiration here. It's a fantastic resource to help you envision and plan your dream wedding. Also, it is one of the finest planner sites in the world. 
12. The Venue Report
The Venue Report is a website where you can find unique wedding venues. If you want something different, like a barn or a warehouse, or even a beautiful chateau in southern France, this site has many options for you. While it's not exclusively for weddings, we chose it because it offers extraordinary locations all over the world. You can discover some truly special places to host your wedding and create unforgettable memories. Also, you get full professional help for your wedding at all times on this site. 
Also read: 3 Tips For Hosting Your Wedding At Home