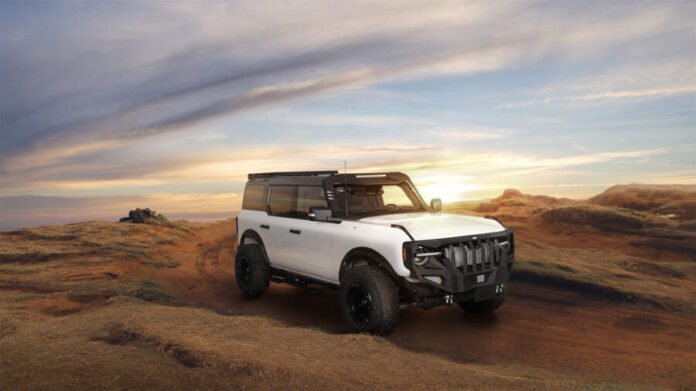 Off-road driving is surely a fun activity, but it requires a tremendous amount of zeal, courage and not to mention, and the right vehicle with the right equipment. Enters: Jeep & Truck Full-Width Bumpers and more. With an abundance of vehicles available in the market, it is easy to get confused about which one to buy that suits your needs. Not all vehicles will match your expectations and run with the same efficiency as you have thought in the terrain of your liking. Certain trucks and SUVs do well in some terrain, however, a modified Jeep or Bronco removes the limitations that SUVs face in a certain type of terrain. That is why, you must know your way around different types of off-road bumpers to find the one that will suit your style, as well as travel needs the best. 
Types of Offroad Bumpers
There are a variety of bumpers designed specifically to serve different purposes. A full-width bumper would provide full protection, while a prerunner bumper would deliver smooth riding in the desert. Therefore, you just know its structure to understand which one would serve you well. 
Jeep & Truck Full-width Bumpers
Full-width bumpers refer to those vehicles that come with a bumper spanning the entire width of the front. If your goal is to gain protection through your choice of vehicle on the trail, this is the best option. However, the option of style may not be flexible in terms of rock crawlers because it is the common type of off-road bumper. There are, although, many standard jeep & truck full-width bumpers that offer protection and style to the ride. 
Jeep & Truck Stubby Bumpers
Stubby, as the name suggests, is a full-fledged bumper that ends before reaching the wheel wells of the vehicle. As the bumpers stay perturbed in a small area, it allows the largest of tires to use maximum articulation across small boulders. It is the most popular choice for Wranglers as it has a stubby-style front bumper. 
People consider full-width and Jeep & Truck Stubby Bumpers to be their best option. Nonetheless, there are more where you can choose from, which we have listed below. 
Primarily made of steel tubing, this type of bumper has minimal structure to provide a maximum approach angle. It takes as little space as possible but it is very popular among desert racing. If your main reason is to protect the undercarriage, this is the one for you. 
If you want to protect the front end of the truck or jeep, Ranch or Brush bumper is your thing. These kinds of vehicles come with bull bars and brush guards that loop upwards to protect the headlights. In addition to these, they are not suitable for overland adventures. 
If you are looking for an extraordinary vehicle that is best for rock crawling then a mid-width bumper should be your choice. They significantly go past the grille. However, they do not edge towards the end of the body. 
The centre mount bumper comes similar to the stubby bumper in design. But compared to a stubby one, it has a much lower profile because it has a winch mount that sits within the bumper. 
Half the task of choosing the right bumpers has been done. The rest depends on your knowledge of the bumper components. The more you know about how they made the vehicle, the better you will be able to address your needs. 
Components: 
Winch plate

: It sits on top of the bumper to protect the winch cable from rubbing against the plate. 

Bull-bar

: It is a tubular steel bar that sits at the centre of the bumper to protect it from obstacles. 

Modular wings

: Some bumper styles allow the user to convert their

Jeep & truck stubby bumper

to a full-length one.

Stinger

: It comes with an extruded bull 1-3 feet in length. This tool protects the front end while keeping the ride from tipping forward.

Skid Plate

: A Skid plate can protect the undercarriage at the front end. 

Light Mounts

: You may find a wide range of locations to mount lights on the vehicle. 

Brush Guard:

This tool is one of the requirements for the ranch-style bumper.
Now you know what components could enhance the power of your bumper. So, check out Hooke Road to meet your bumper-related needs. 
Weigh in Your Options Before Buying: 
We already know the types of bumpers that there are, starting from jeep & truck full-width bumpers to more. But you must weigh in different circumstances before you purchase anything. Only through understanding the following pointers, you can analyze what you want and buy them accordingly. 
The Material of The Bumper

: 
There are aluminium, and steel bumpers available. Aluminum bumpers are stronger than AB plastic whereas steel bumpers aren't prone to damage. Aluminium-based bumper is lighter compared to steel-based bumper as well. The choice will depend on what you need, and hopw you want it to serve you.
There are manydifferent types of bumpers you will get at a different price range. The goal is to ensure delivering maximum quality and longevity across the price range. Not only this, the material of the bumper impacts the cost of the bumper as well. 
Consider the weight of your bumper before you mount them. The heavier the weight is, the more imbalance your vehicle may get. The size must complement the bumper as well. 
Ending Note: 
While the mentioned above pointers are important for addressing your needs, you must check in with a specialist. Once you pinpoint what you want, consult with a specialist to get their opinion on the matter. They will advise you on what is suited to your vehicle. Moreover, Hooke Road holds the capacity to fulfil each of your bumper needs. You can find full-width to stubby bumpers depending on your requirements. Moreover, for any component you require, you will find them here. So, in short, It is the one-stop destination to upgrade your vehicle.