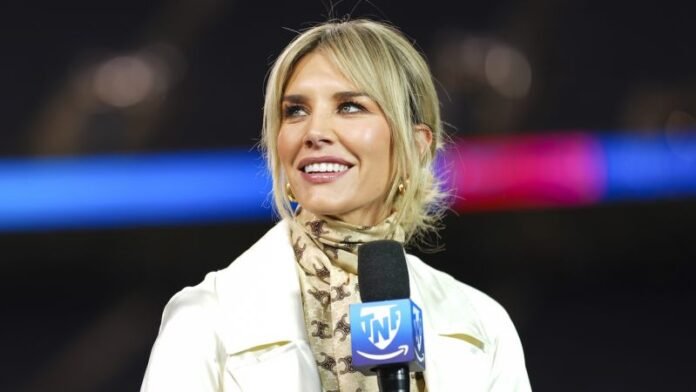 Charissa Thompson, an esteemed American television host and sportscaster, boasts a net worth of $5 million as of 2023. Renowned for her significant contributions to the sports broadcasting realm, she has solidified her presence as one of the industry's notable figures. Her noteworthy tenure at Fox Sports has been a cornerstone of her career, showcasing her prowess in covering major sporting events. Beyond her sports-centric roles, she has also left her mark as a co-host alongside Mario Lopez and Tracey Edmonds in various shows.
In 2016, Thompson added another feather to her cap when it was announced that she would host the Netflix reality show "Ultimate Beastmaster." Her versatile career spans prominent platforms, including ESPN, Versus, and the Game Show Network, reflecting her enduring commitment to the world of television and entertainment. If you wish to know more about this prominent personality, then you should go through this article in detail. 
"This is gonna be really cool"

We can't wait to have @garthbrooks on @amazonmusic following our Black Friday Football game! pic.twitter.com/ijQUNLbPHa

— NFL on Prime Video (@NFLonPrime) November 2, 2023
Early Life
Born on May 4, 1982, aged 41, she hails from Seattle, Washington, United States. Recognized in the television world as Charissa Thompson, her full name is Charissa Jean Thompson. Growing up in a well-established family, she is the youngest among three siblings. Her early affinity for broadcasting paved the way for her eventual career.
She pursued her high school education at Inglemoor High School in Kenmore, Washington. Subsequently, her family relocated to California. There, she commenced her education at a community college before transferring to the University of California, Santa Barbara. In 2004, she graduated with a B.A. in Law and Society, laying the foundation for her journey into the professional realm.
Week Nine with the @NFLonFOX crew pic.twitter.com/qH7AWAsWue

— Charissa Thompson (@CharissaT) November 6, 2023
Educational Details
Charissa completed her high school education at Inglemoor High School in Kenmore, Washington, and she graduated from the University of California, Santa Barbara in 2004.
Career
Broadcasting Career
Charissa Thompson embarked on her career by immersing herself in the realm of sports broadcasting. During her college years, she actively contributed to a range of shows, including Big Ten Network and Fox Sports Net, providing her with valuable exposure to the industry. Early in her career, these shows played a pivotal role in shaping her professional trajectory. Notably, she took on the role of a National Football League sideline reporter for NFL on Fox, showcasing her versatility and expertise.
Her journey also included appearances on several Big Ten Network shows, along with contributions to baseball-centric programs like Big Ten's Best and Friday Night Tailgate. One of her standout achievements was her significant role with Fox Sports, garnering recognition and acclaim within the industry. Charissa Thompson's successful career has been marked by her engagements with various popular platforms, solidifying her position as a prominent figure in the field.
Television Career
In addition to her role as a sports broadcaster, Thompson has been actively involved in well-received television programs. Collaborating with Mario Lopez and Tracey Edmonds, she assumed the role of a host on one of these shows, contributing to its success. Renowned for her notable television projects, she has earned recognition within the industry for her impactful contributions.
Adding to her diverse portfolio, she made headlines by announcing her participation in the Netflix reality show Ultimate Beastmaster, further solidifying her presence in the entertainment landscape. These endeavours have not only showcased her versatility but have also played a significant role in establishing her popularity within the television industry.
Net Worth
Thompson has gained recognition for her presence in various sports shows, establishing a strong foothold in the industry. Her professional career has proven lucrative, with substantial earnings from appearances on popular television shows and engagements with well-known platforms. Her financial success is evident in her high fees for participating in prominent television projects. As of 2023, Charissa has accumulated a net worth of $5 million.
Accolades
Charissa has garnered acclaim for her contributions to the television industry, particularly in her role as a sports broadcaster. A noteworthy achievement in her career is her collaboration with renowned television platforms such as Fox Sports and ESPN.
Charissa Thompson Nude
In January of last year, Thompson, a host for Fox Sports NFL, found herself in an unexpected situation when she learned that nude photos of her had been unlawfully obtained from her iCloud and subsequently disseminated on the internet.
Thompson candidly shared the distressing experience in a podcast with The Athletic, recounting how her friends played a crucial role in supporting her during the release of images that dated back to a time long past.
Read Also: Influential Sports Journalist David Morgan Moves to Sinclair Broadcast Group