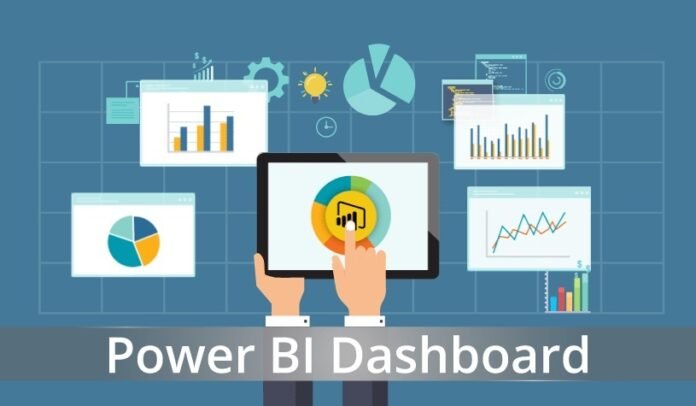 If you are looking for a good data visualization and analytical tool, power BI reports might be just what you need. Your insights and discovery will be reflected in a suite of visualizations on multi-perspective views created on Power BI datasets. Turning data into insights, reports, and interactive visualizations makes business intelligence platforms such as Power BI ever more indispensable in everyday work at good or service companies.
What stands for Microsoft Power BI? 
Professionals and organizations make use of data visualization tools known as Microsoft Power BI in daily transactions. The platform proves handy despite analysts using it often; it does not require professional expertise in data handling. The benefits of using Power BI share report include presenting data in various formats, including plotting data in different formations such as maps, scatterplots, graphs, and other types of charts. Another great benefit it offers is "AI Insights" in its interface that utilizes Artificial Intelligence to support users in finding hidden information or insights within a data set. This platform is explicitly designed so that any non-technical user can easily generate a report, manipulate data, or conduct sophisticated data analysis. The advantages of the dashboards in Power BI depend on the factors that the report is emphasizing.
What advantages do Power BI dashboards have?
You should realize that it is easy to create dashboards of Power BI through its extremely easy-to-use interface. In this case, no lines of code are needed for creating the same. All you have to do is click and drag it to your desired location. Furthermore, it also possesses some degree of intelligence that suggests specific reporting components depending upon what you choose. 
In Power BI, which type of dashboards do you have the possibility to choose that will allow the use of various kinds of visual components aimed at improving data comprehensibility?
Sales Dashboard
Customers view a visual picture of themselves in sales, purchases, and inventory through the Sales Dashboard. These simplify trend lines and key data points for users to be able to make the right decisions that can improve their operations further. The aim of this report is highly interactive and enables users to follow various visualizations, allowing them to retrieve further details for their sale.
Inventory Stock Analysis Dashboard
The use of this dashboard in analyzing inventory data- a thing that is so prevalent today when it comes to varied digital investment options necessary. This report is structured into pages by using some bookmarks in order to make one page look as if it is several pages. In addition, it offers its clients various visual components, such as charts and tables, that assist them in interpreting their information. Therefore, all the data on stock levels, stock movements, reorder points, and others are available in this report concerning stock.
Social Media Analytics Dashboard
With the help of an analytical tool like the Social Media Analytics and Monitoring Dashboard, it will be easy for you to find out which advertisements are attracting your intended consumers' attention. Using this data, you could make decisions regarding the allocation of marketing budgets, messages, and targeting tactics and optimize your campaigns, thus giving better results. This dashboard will, for instance, enable you to meet your marketing objectives effectively to maximize your profitability and enhance the overall performance of your organization.
Service Desk Issues Report
This particular report – 'Service Desk Issues' – serves as a practical tool to support effective project management in your company. It will enable them to identify those projects that are most problematic and number the highest-priority ones. Using this report, businesses may identify project bottlenecks that might cause delays ahead of time, allowing them to circumvent them proactively. The Service Desk Issues provides a perfect opportunity for firms to monitor such issues and concentrate their attention on those projects that need to be pushed forward.
Financial Analytics Dashboard
This is an outstanding example of a Power BI Dashboard that can offer you a glimpse of overall income and all your financial activities. This financial analytical dashboard lets you view KPIs and make data-driven decisions. This contains monthly income data, location on revenue line items, revenues, sales & expenses broken down by department, months, periods, etc. This encompasses a bar graph indicating total revenues V/S Expenditure. The dashboard works perfectly for store owners operating in numerous sites like bus stations, airports, shopping centers, and malls, among others.
Why these Power BI dashboards are important for immediate insights? 
As the article mentioned before, no code is involved in accessing and learning how to use the Power BI dashboard. In addition, Power BI was formed based on Microsoft Excel, facilitating a swift learning course while creating Power BI Dashboards. In general, Power BI Dashboard Examples enable businesses to visualize their data properly for it to make meaningful decisions for its customers. The first significant issue relates to how these dashboards can be used for benefit in the organizations where relevant data is required.
Read Also: Power BI Software: Knowing the Basics