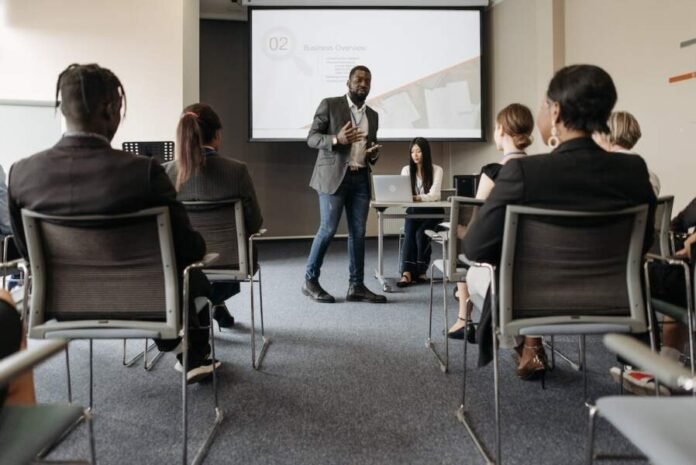 Presenting a concept, product or service to an interested buyer is an art. Presenters must accurately represent the offering, positively reflect their brand, showcase value, and ease any concerns or anxieties while fostering a trusting relationship with the audience.
A successful pitch will either seal the deal, moving the buyer along in the sales journey, or it will turn them off — potentially losing the sale and a prospective long-term client. So, it goes without saying that fruitful sales pitches are the lifeline for many businesses.
That's why strengthening the pitch with a professional PowerPoint presentation is one sure-fire way to make an impact and impress potential buyers. But creating a quality PowerPoint isn't as easy as it may seem. Yes, you can likely put together a presentation in-house, but professional designers know how to storyboard your pitch and craft a visually impressive, engaging and inspiring presentation that conveys your message in a memorable and easy-to-grasp format.
Not only will your presentation look phenomenal, but outsourcing the creation of your slide deck to the professionals is a savvy move, financially speaking. Here's why.
1. Outsourcing Saves Your Team Time
Creating an impactful deck that meets your brand's design standards while hitting all your talking points takes time — and rightfully so. Leave it to the pros and dedicate your team's time to researching your client or clients and perfecting their public speaking skills.
2. You're More Likely to Impress
Professional designers like Stinson Design not only make your presentation look elevated and slick, but they also help you storyboard your pitch with a strategy that deploys cohesion and flow while keeping the speaker on track and making sure nothing is overlooked. They'll deploy the best design practices that boost accessibility and encourage information retention.
A professional and elevated presentation that incorporates these factors and more is undoubtedly more likely to wow and impress clients, heightening the potential of making a sale.
They can also create custom graphics, animations and videos for a truly unforgettable impression. These media will be incorporated seamlessly with no lagging videos or blurry images, each of which can be distracting — both for the audience and presenter — and appear totally unprofessional.
3. It Can Close a Deal
Finding potential clients, then pursuing and nurturing these leads, also takes valuable employee time. Failing at one of the final hurdles — the sales pitch — can see all that hard work go to waste. 
Presenting a powerful PowerPoint can close the deal, meaning that no employee time was wasted in the early stages of the lead funnel when your team was fostering and building the client and company relationship.
4. Outsourcing Will Reinforce Your Brand Identity
Consistent branding is vital in both internal and external communications. Failing to craft a PowerPoint presentation that meets your brand's professional standards(one that includes mismatched fonts, off-pixel colors and off-key graphics and animations) can see all your hard work in fostering a professional aesthetic and message go to waste. It can also sway customer and client loyalty.
Design agencies will flawlessly and accurately represent your brand's identity with no hiccups.
The Bottom Line
If you invest money in marketing and the creation of professional business cards and websites, you'd be remiss to not invest in custom PowerPoint presentations as well — whether they're for sales pitches, board meetings, team training or any other facet of your business that involves presenting. In the long run, it'll save you money while elevating the perception of your company — greatly maximizing the likelihood of you scoring the sale.
Read Also: How to Market Your Business on a Budget