Among the lovers of hair dying, ginger hair colour has become very trendy. In fact, this addiction to reddish hair colour has increased in recent times. In fact, this hair colour is considered a parameter of hotness in the fashion world. Various celebrities like Zendaya, Kendall Jenner, and Sophie Turner have opted for this copper plunge and there are yet more attractive takes on this shade in store.
In fact, according to various hair colour specialists and celebrities, this reddish hair dye with its various versions is suited to various skin tones. For instance, deep violets and cranberries look perfect for deep skin, peach and cinnamon work wonders on pale skin, and rubies and coppers look incredible on everyone. Therefore, if you wish to know about the best ideas of this reddish hair colour, then this article is the perfect stop for you. Keep reading this article to know about various reddish hair colour ideas in recent times. 
The List Of GInger Hair Colour Ideas
There are various versions of ginger hair colour dye available on the market. However, not all of these are worth your money. Therefore, here goes a list of the best ginger die ideas for your hair: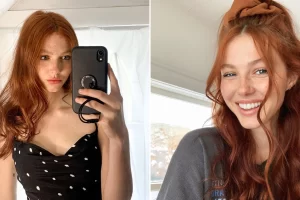 1. Cinnamon Brown
If you are looking for the best-suited ginger hair colour on black girls then Cinnamon Brown is the perfect choice for you. In fact, if you are a brunette then his hair dye will make you look warm and fresh. This hair colour is mainly made using warm brown hues. Therefore, if your skin tone matches this hair colour, then visit your nearest hair stylist and go for this warm colour. 
2. Dark Auburn 
If you are on the lookout for dark ginger hair colour then this is bound to be one of your favourite choices. Let me inform you that this colour has brown as its base and is great to look at. Ciara has this type of hair colour and she looks damn hot. Thus, you may consider trying this colour out if you prefer darker shades. 
3. Coral Copper
In the copper colour family, this is a paler member. It is delicate and soft in appearance. Moreover, it has a pinkish trait in it. Therefore, if you wish to fade out of a deeper red, then it is the colour for you. In fact, it looks smooth and pleasing, with a decent appearance.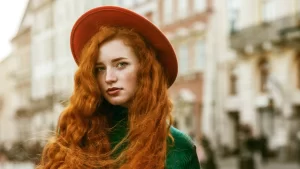 4. Ginger Orange 
The ginger hair of Gigi Hadid has been an inspiration to many in choosing ginger hair. In fact, this colour is greatly influenced by The Queen's Gambit and is one of the most used shades of colour in recent times. 
5. Golden Ginger
For lovers of the golden shade, who wish to add a twist to their hair colour, this is a great option. This hair colour is a mixture of golden creamy spice tones. It looks surprisingly pretty and you can wear this colour anywhere you go. 
6. Neutral Copper 
As the name suggests, this colour is a blend of neutral tones and copper. As a result, your hair would look silky and warm. This is mainly for those who wish to avoid the orange tint. 
7. Ginger Wash
This colour will give a slight hint of red to your hair. It is a slightly reddish tint, yet not exclusively visible to the eyes. Therefore, if you wish to go for the red colour, without being overtly visible, then you may safely go for this colour.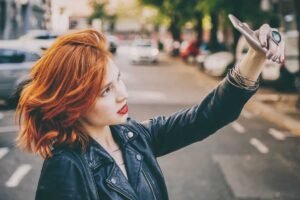 8. Cayenne Spice
This is a blonde-tinged red colour. The depth and dimension that it gives to your hair, is really great and enriching. 
Also read: Long Sleeve Swimsuit – Best Women Collections Of 2023 To Explore