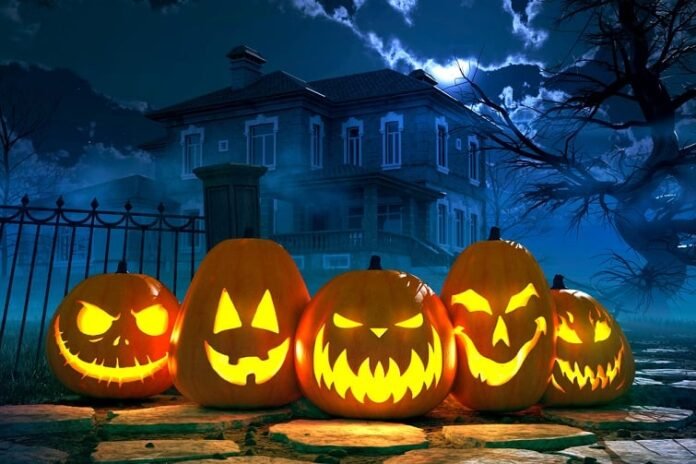 Halloween is a time when magic fills the air, and the spooky becomes spectacular. If you're planning to throw the best party, here's a step-by-step Halloween party checklist to ensure it's a perfect time for all your guests.
Setting the Stage: Halloween Decorations
Transforming your space into a spine-tingling haunted haven is a Halloween party must. Get ready to immerse your guests in a world of spookiness with these eerie decorations.
Creating a Spooky Entrance: Welcome your guests with a chilling entrance adorned with fake cobwebs, tombstones, and eerie lighting. This sets the tone for the night's thrills and creates a sense of anticipation.
Carving Jack-o'-Lanterns: Get creative with pumpkin carving. These glowing jack-o'-lanterns make for both decorations and a fun activity. Consider placing candles or LED lights inside to cast eerie shadows.
Creepy Crawlers: Scatter lifelike plastic spiders, bats, and rats around your party area to enhance the creepy atmosphere and surprise guests around every corner.
Cobwebs Everywhere: Stretch spiderweb decorations across corners, mantels, and doorways to create an authentic haunted house feel. The more cobwebs, the spookier!
Costume Corner: Create a designated area for guests to store their coats and change into their Halloween costumes. It makes dressing up easy and keeps the party area clutter-free.
Eerie Halloween Playlist: Set the mood with a playlist of eerie tunes featuring classics like "Thriller" and "Monster Mash." Music adds an extra layer of atmosphere to your party.
Fog Machine (Optional): Consider using a fog machine for a more haunting ambiance. It fills the space with a mysterious mist that adds to the spookiness.
Party Essentials: Supplies and Invitations
Every successful Halloween soirée begins with careful planning and preparation. These essentials, from sending out invitations to stocking up on party supplies, lay the foundation for a boo-tiful event.
Send Out Spooky Invitations: Send out Halloween-themed invitations well in advance, either in physical or digital formats, to ensure your guests save the date. A creatively designed invitation sets the tone for your spooky soirée and builds excitement.
Tableware and Party Favors: Stock up on Halloween-themed plates, cups, napkins, and cutlery to give your party table a festive flair. Prepare goodie bags with Halloween candies and small trinkets as party favors; these little tokens of appreciation will leave your guests with fond memories of your gathering.
A Variety of Beverages: Plan a range of beverages, including non-alcoholic options like punch or apple cider, to cater to all your guests. You can also offer themed cocktails for the adults and spooky mocktails for the little monsters.
Ice and Coolers: Ensure you have ample ice to keep drinks cold throughout the night. Use coolers or bins for easy access; this keeps the chilling process smooth and ensures your guests always have a refreshing drink in hand.
Trash Bags: Have an abundance of trash bags available for efficient cleanup. Consider using black or orange bags to align with the Halloween theme. Keeping a clean environment ensures your party stays spooktacular and hassle-free.
Seating Arrangements: Arrange comfortable seating areas for your guests indoors and outdoors if applicable. From cozy corners for chilling to seating around the bonfire, providing ample places for your guests to rest guarantees they have a comfortable and enjoyable evening.
Spine-Chilling Snacks and Treats
No Halloween party is complete without a delectable spread of spine-chilling snacks and toothsome treats. Create a to do list online to remember all of these delightful culinary creations.
Finger Foods: To keep your guests fueled for a fun night, offer a selection of finger foods. Think mummy hot dogs wrapped in flaky pastry, deviled eggs adorned with olive "spiders," and meatball "eyeballs" that will give everyone a shiver of delight.
Sweet Treats: Indulge your sweet tooth with a bewitching candy buffet. Fill it with an array of Halloween candies, chocolates with eerie fillings, caramel apples coated in colorful toppings, and popcorn balls that are a sweet and salty sensation.
Cake or Cupcakes: Consider ordering or baking a Halloween-themed cake or spooky cupcakes for a show-stopping dessert. These can serve as the hauntingly delicious centerpiece of your dessert table.
Dip Station: Elevate your snack game with a dip station featuring a variety of creamy concoctions. Serve spinach and artichoke dip in a bread bowl shaped like a brain, adding a touch of macabre charm to your spread.
Healthy Options: Remember to cater to diverse palates by including some healthier options. A colorful veggie platter paired with a delectable dip will ensure that even health-conscious guests have something to munch on amidst the sweets and treats.
Costume Contest and Activities
A Halloween party without costumes and activities is like a cauldron without a witch's brew. Let's dive into the heart of the celebration and discover how to keep your guests entertained and engaged.
Costume Contest:
Organize

a costume contest to elevate the Halloween spirit.

Create excitement by offering prizes for various categories like Scariest, Most Creative, and Best Group Costume.

Encourage everyone to participate and unleash their inner spookiness.
Pumpkin Carving:
Provide

a space for pumpkin carving with pumpkins and carving tools.

Let your guests channel their inner artists as they craft intricate designs on their pumpkins.

Don't forget to display the finished products for all to admire.
Horror Movie Marathon: For those who prefer a cozy night in, set up a designated movie-watching area. Screen classic horror films to create a chilling atmosphere throughout the night. It's the perfect way to entertain your guests while enjoying spine-tingling cinema.
Games: Keep the party alive with Halloween-themed games. Consider classics like bobbing for apples, where guests can showcase their apple-catching skills or a mummy wrap race that'll have everyone in stitches. These games are a surefire way to keep your guests engaged and having a good time.
Safety and Comfort
While Halloween is all about thrills and chills, it's crucial to prioritize safety and comfort. Create a secure and enjoyable environment for your guests with these precautions.
Well-Lit Paths: Ensure that outdoor areas are well-lit to prevent accidents and provide a safe environment for guests, especially if you have outdoor activities.
First Aid Kit: Keep a basic first aid kit on hand to address minor accidents or injuries during the party. Safety first!
Designated Drivers: If alcohol is served, arrange for designated drivers or provide information about rideshare options for your guests' safety.
Allergy-Friendly Treats: Consider your guests' dietary needs, especially children, by offering allergy-friendly treat options. Label any allergens.
Spooky Send-Off: Party Favors and Thank-Yous
As the witching hour approaches, bid farewell to your guests with a touch of appreciation. Explore how to leave a lasting impression with party favors and thoughtful thank-yous.
Party Favors: As your guests depart, distribute goody bags or small Halloween-themed favors as tokens of appreciation for their attendance.
Thank-You Cards: Send thank-you cards or messages to express gratitude to your guests for joining the spooky festivities. It's the perfect way to wrap up the night.
With this comprehensive Halloween party checklist, you're fully equipped to host a bewitchingly memorable celebration. Let's dive into the details to ensure your Halloween bash is a graveyard smash!
Read Also: Seasonal Holidays To Bring In The Celebrations Of Good Times