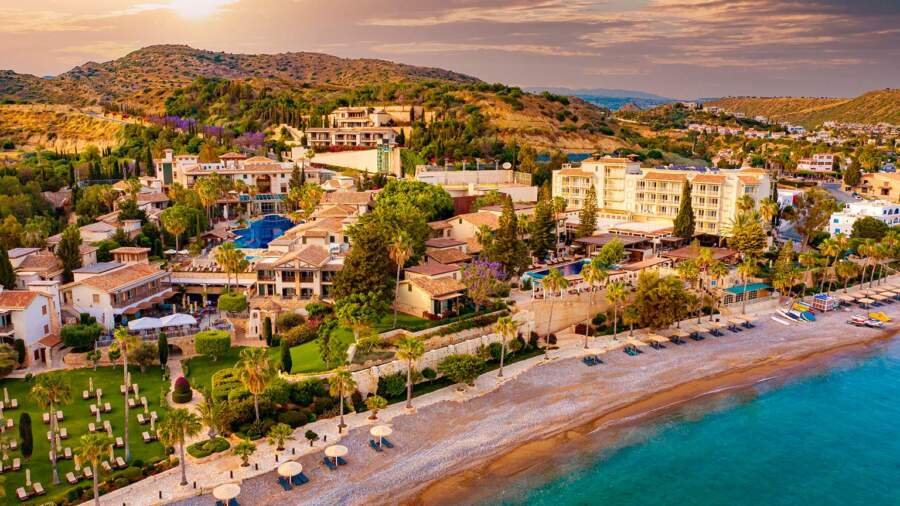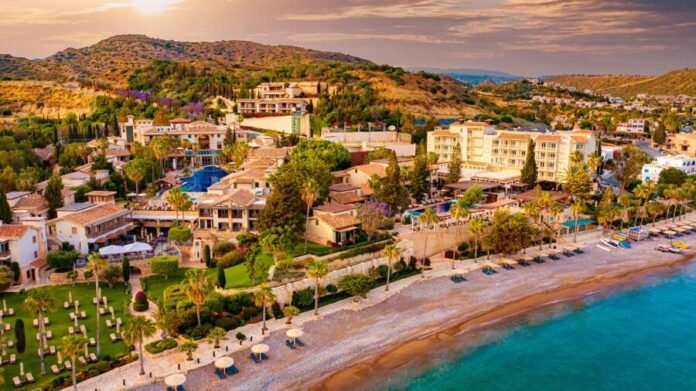 Sunny days, great food, the sea nearby, shady mountains – sounds like the perfect holiday, right? This is Cyprus all year long. It is an excellent place to stay, relax, work, do business, and raise a family. Cyprus is one of the most beautiful and thriving islands in the Mediterranean. Here, we tell you all about property for sale in Cyprus and the benefits of Cyprus living.
Key Takeaways
To buy property in Cyprus, you need the professional services of a lawyer and a real estate agent

There are property types available that can suit any budget

The choice of an area depends on your lifestyle and needs

The procedure of buying is straightforward, and your lawyer can take care of it for you

Cyprus is a unique combination of business and leisure and a relatively cheap place to live (read more about

business and investing in Cyprus

)

You can enjoy a relaxed lifestyle and raise your family in a safe environment with great educational options
Property for sale – professionals you need
To buy property in Cyprus, you need two types of professionals: a licensed lawyer to take care of the sale agreement and paperwork and a licensed real estate agent to help you find the most suitable property.
The Cyprus property market
The property market is robust in Cyprus. The latest press release from the Real Estate Agents Registration Council of Cyprus (8 May 2023) reports EUR 1,7 billion in sales during the first quarter of 2023. The RICS Property Index for Cyprus backs this data for the second quarter of 2023. There is an increase in residential property and high demand for holiday property like holiday apartments.
Moreover, professionalism and availability mark selling and buying. Real estate agents operate under strict legal and ethical supervision.
You can choose from studios and apartments to houses and bungalows, from high-rise penthouses to villas in the suburbs or countryside. Seaside property is available but more expensive.
No location is far from the mountains and sea. Nicosia is the only inland district, yet about 45 minutes drive from the choicest seaside resort towns.
Limassol is the most popular district because of its beautiful nature and the cosmopolitan seaport city of Limassol. While there are many relaxing beaches and entertainment spots, the city is a maritime and commercial centre, offering plenty of opportunities for employment or entrepreneurship.
Nicosia is the capital and the centre of government and finance. It is a hub of employment and networking. You can buy or rent in the centre, the suburbs or one of the many villages near the capital. Note, however, that the centre of Nicosia is expensive, and the most likely choice is an apartment; houses to buy are rare in the central areas.
Paphos and Larnaca are smaller than Nicosia and Limassol. They are quiet yet highly desirable districts precisely because of the relaxed lifestyle. Paphos is popular with expats, while Larnaca combines the small city with employment and business openings.
The real estate agent knows the market and the land. Talk with them and have a look at available properties before you decide.
The procedure
When you decide upon a property, your lawyer will make an offer and discuss the contract of sale with the seller. The contract should be in simple language. It must show details about the property, the price and the payment method. If the property is under construction, it should have a timeline. Don't sign anything before your lawyer says so.
After the buyer and seller sign, they or their lawyers will go to the district office of the Land Registry to do the transfer. The buyer stamps the contract and pays the transfer fees, and new title deeds are issued to their name. If the seller cannot give title deeds, you should find out why and file the contract of sale. This way, you can make the seller transfer the title deeds to you. Again, don't do anything before you talk with your lawyer.
Taxes
The seller must have a tax clearance certificate showing that they have paid all taxes concerning the property. You will pay VAT (19% or reduced in some cases), a mortgage tax of 1% (if applicable), and town and municipality taxes. There is no property tax in Cyprus.
Rules for third-country nationals (TCNs)
TCNs can buy property in Cyprus with permission from the Council of Ministers. Your lawyer will do this for you. Property worth EUR 300,000 plus investment requirements will get you permanent residence by investment. Alternatively, you can apply for permanent residence by category (for example, for employment) or the pink slip, renewable annually. The pink slip does not allow you to work, you need to support yourself from income outside Cyprus. 
The benefits of living in Cyprus
Cyprus is a unique combination of business and leisure and a lifestyle that can fit anyone. Hundreds of coastline kilometres, sparkling waters, golden sand, forested mountains, green countryside, and vibrant cities exist. The mild climate is recommended for health. Because of the rich history, there are museums and archaeological sites for culture lovers and various restaurants, clubs and cafes for serious fun!
Food and amenities are overall cheaper than in the rest of Europe. You can buy fresh food in local markets, saving costs. Major stores and clotheslines as well as several supermarkets, operate on the island. Distances are short, which saves on fuel.
If you are considering raising a family, Cyprus is a safe place, with attractions for children, like waterparks, beach happenings and amusement parks.
People speak English, and there is a large international community.
Importantly, you can find an excellent selection of English-speaking private schools and Universities for your children's professional future!
Finally, Cyprus is a commercial and investment hub. A robust infrastructure of legislation, facilities and top-ranking professionals, combined with an outstanding geographical position and EU membership, means that business can develop and thrive.
Conclusion
Buying property in Cyprus is a straightforward procedure for which you need a lawyer and a real estate agent. Cyprus is a most beautiful place to live, with an easy-going lifestyle near the mountains and sea. It is also an excellent option for family life and children's education. Business is helped by a robust legal system, government and professional facilities. Property is also a good investment, for value and demand are steadily high!
Read More: Helpful Tips To Make Your Move Easier To A New Country