So, according to the sources, the University of Arizona Women's basketball coach, Adia Barnes has come under the headlines for a very different reason other than the game. As per the reports, she pumped breast milk during the NCAA Women's basketball championship game on Sunday night 4th April. 
The reporter of ESPN, Holly Rowe was the commentator of the game, and he told the viewers about this incident. So, he said that the Arizona Basketball coach, Adia was, "late coming out at halftime because she's back in the locker room pumping. She's still a breastfeeding mother, and they have to warm up the bottle with the heat packs that are here on the sidelines…She's doing it all."
If you want to know more about Adia Barnes's break milk pumping incident, then you are at the right place. Here we will share all the details that you need to know about Barnes. 
Who Is Adia Barnes?
So, as per the sources, we can etll you that Adia Barnes has become famous as the basketball coach of the University of Arizona women's team. She was born in the year 1977 on 3rd February, in San Diego, California, USA. As we just mentioned, she is popular for being a Basketball coach.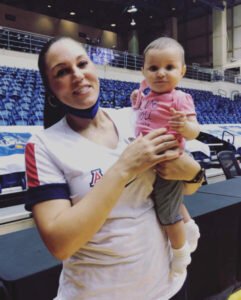 What Did The Commentators Say?
If you want to know everything about the breast milk pumping incident, then let us tell you some details. Apparently, the ESPN sideline reporter, Holly Rowe, who was also the commentator of the game reported the whole incident. Just as we mentioned earlier in this article, Barnes was late coming out at Halftime because she was still in the locker room pumping her breastmilk. 
The fans of Arizona Women's Basketball may know that the coach, Adia Barnes is a breastfeeding mother. She had to warm up the bottle with the heat packs that were there on the sidelines. Holly also added, "And for those who think this is too much information, I'm just going to tell you this, Let's normalize working mothers and all that they have to do to make it all happen."
Quite naturally, the entire Twitter flooded with tweets regarding this news. Many people appreciated Adia for what she had done. Many people felt that it was a 'badass move' to pump breastmilk for her baby at halftime of the national championship game. 'Breastfeeding at Halftime' was one of the most common tweets that night. 
Barnes Became A Mother Of Her Second Child In September 2020
As per the sources, Adia Barnes and her husband Salvo Coppa welcomed their little daughter, Capri, in 2020, in September. Capri is their second daughter. After Sunday's game, Adia said that she had a baby right when the season had started, and then she had taken a week off. She further mentioned, "It says I took a month off, but I did not. I was on Zoom calls four days after having a C-section, so it was hard, but my team loved on me…I missed a couple of weeks, I got a little sick, and they fought for me." 
Talking about the breastfeeding incident, the Arizona women's basketball coach, Adia Barnes stated that she had represented moms there. Even though she is a Coach at an elite basketball team, it's true that she is a mother as well. She couldn't overlook her crying baby daughter. 
It was a big stage for her team to perform as well. Barnes and the University of South Carolina coach, Dawn Staley both led their teams into the NCAA Women's Basketball Final Four. The breastfeeding incident was not a 'big deal', and as Holly Rowe rightly said, it's important to normalize breastfeeding and not to make a big issue of it.
Also read: Do You Know There Are Side Effects of Drinking Too Much Water?