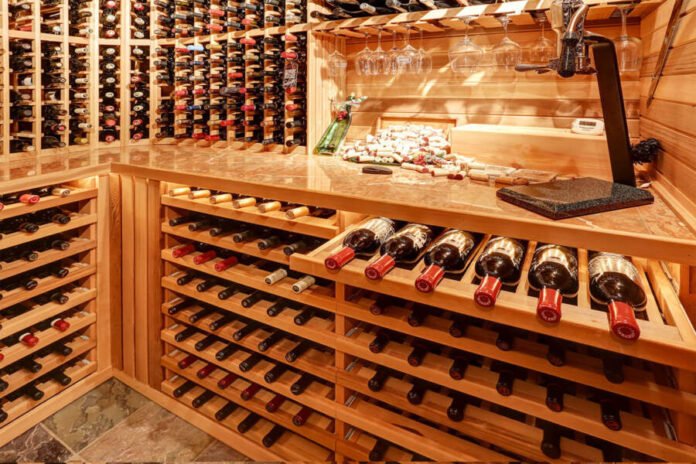 A wine cellar adds a level of sophistication to your home, providing an attractive and useful lifestyle enhancement. Whether you're a wine connoisseur, an eager novice, or simply a home decor enthusiast, building a wine cellar has benefits. However, there are several factors to consider before you start placing orders for shelving. Plan your wine cellar installation strategically to ensure your collection and investment are secured for years to come.
1. Location
As with the first rule of real estate, the location of your wine cellar will determine the success of your investment. Wine is sensitive to temperature, humidity, and light, making your wine cellar's ability to control all three essential. 
As the name suggests, many homeowners locate their wine cellar in the basement, which can be a great choice — with a few precautions. First, temperature control is a must, as wine typically stores best at 55 to 59 degrees. Most basements maintain a lower temperature than the rest of the home, but achieving a consistent temperature is key. Install a mini split system to control the environment of your wine cellar and protect your investment. Pair this installation with humidity control, which will ensure optimal conditions for your collection. 
If your basement is out of the question or you don't have one, you can establish a first-floor "cellar." Repurpose a butler's pantry or hall closet, or reconfigure an otherwise odd space under the stairs for a centrally located cellar. Reserve an interior space, free of harsh lighting or temperature swings, which can damage your wine. 
Install a vapor barrier before you begin building out your cellar. Even if your target location seems primed for your collection, protecting its contents from external factors is essential. Without a vapor barrier, you run the risk of introducing mold, mildew, and unwanted odors and flavors to your wine. Your vapor barrier should run below and behind all surfaces in your space, protecting your investment.
2. Security
In addition to the physical location of your wine cellar, you'll need to ensure you have adequate access to power. Review your target location and see what existing outlets you have and if new ones will need to be added. Work with an electrician to determine what you'll need to install for cooling, humidity, and lighting systems. Centralize your wine cellar's power on your breaker switch to reduce the risk of other systems taking them offline.
Physical security for your cellar may be top of mind, especially as your investment grows in value. Keep your bottles secure behind a stately, secure door worthy of the task. Keypad entries, fingerprint pads, and traditional keyed doors ensure your collection remains intact and the interior's conditions are maintained. 
If the cost of your collection warrants it, you can take further measures. Outfit your interior with a range of security solutions like individual bottle locks, cameras, and alarm systems. Add a door chime for an audible alert when the door is opened and closed. You can code an alert for when the cellar is opened for an extended period, which can prevent humidity loss. 
Your lighting choice pulls double-duty in your wine cellar, providing both visibility and security. However, not all lighting is created equal, so look for options that won't damage your wine. Use low-level or UV-filtered lighting to prevent premature aging or oxidation. Motion sensors can up the security factor and reduce excess light when your cellar isn't in use. 
3. Storage
The primary reason for building a wine cellar is to ensure you have adequate and appropriate storage for your wine. Your available space will determine your storage choices. A small, step-in cellar may necessitate compact, wall-covering shelving for maximum storage. A larger, walk-in cellar may be able to accommodate rows of free-standing racks where wine enthusiasts can stroll. 
No matter your cellar size, the material, structure, and installation of your racks are important considerations. Wood racks finished with stain may be beautiful, but they may off-gas, imparting odors that can damage your wine. Look for wooden racks made of mahogany or oak, which won't require a finish to stand the test of time. Alternatively, metal racks add a modern polish and strength and can also provide additional security to your shelving. You can, for instance, install locker-type doors to keep legacy bottles out of reach.
Organize your collection based on variety, location, and age. Use an inventory management system to track your collection's contents, especially as it grows. Make it fun to "shop" your cellar by using shelf labels with tasting notes and special designations for favorites. 
Add your wine cellar to your cleaning schedule, checking it regularly for pests, securing vapor seals, and monitoring humidity levels. By keeping tabs on your space, you can ensure your wine is secure and ready to enjoy at any time.
Build the Wine Cellar of Your Dreams 
Enjoying wine is an experience worth savoring, as is curating your collection. By outfitting your home with the wine cellar of your dreams, you can secure your investment, blending both beauty and functionality. You'll enjoy knowing your carefully selected bottles will remain safe and delicious for years to come.
Read Also: Turn your hobby into a profession: Be an Arborist