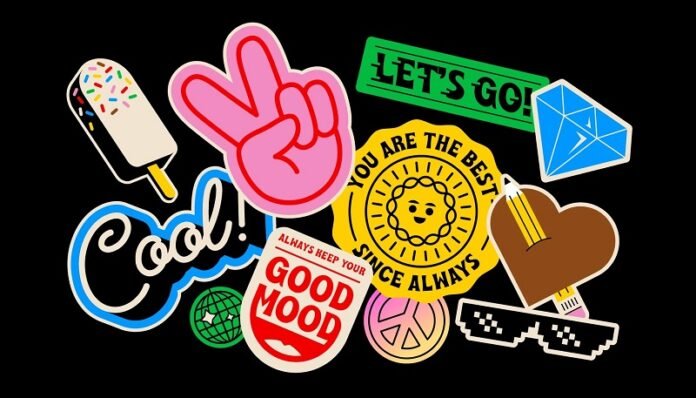 Custom stickers give diverse objects and environments a personal touch. It offers countless opportunities, whether you're an individual trying to express yourself or a corporation trying to improve your marketing initiatives. Follow our step-by-step tutorial to create your very own stickers.
What Are Custom Stickers?
Custom stickers are individual sticky labels or decals made to your specifications. They are available in different shapes, sizes, colors, and designs, making them useful instruments for communication, branding, and self-expression. You can use them on several surfaces, including water bottles, personal laptops, and merchandise packaging. 
If you don't want to go through the process, you can just order it online. How? Vograce offers personalized stickers with strong adhesive, quick delivery, and affordable prices that may be made in any form or design. At your request, we can create personalized stickers. Die-cut stickers, Washi tape, vinyl stickers, holographic stickers, matte stickers, glitter stickers, clear stickers, and other types of bespoke stickers are available.
Designing Your Sticker
Your personalized sticker needs an alluring design. To create a design that pops out, follow these steps:
Create a concept: Why do you need Custom Stickers? Brand building, event marketing, or some other purpose? Having a defined concept can guide your decision.
Software Selection: Select a graphic design program that matches your tastes and ability level. You may realize your vision using tools like Adobe Illustrator, Photoshop, or user-friendly platforms like Canva.
Graphics and Text: Your sticker will look more aesthetic with pictures, images, and text. You just need to make sure that the components are distinct, logically placed, and harmonious concerning color and design.
Size and form: Select the sticker's form and dimensions. Circles, squares, rectangles, ovals, and bespoke forms are typical choices. The shape should enhance your design and accomplish your goal.
Printing Your Sticker
Finalized your design? Now, it's time for PRINTING!
Printer Consideration: You need a printer to print obviously! Choose one that can produce excellent quality on vinyl or adhesive paper. An inkjet or laser printer may be the best option depending on the materials you select.
Material Choice: The material is crucial for better results. For outdoor use, vinyl is a durable and weather-resistant option. Indoor use is best suited for adhesive paper. Choose the material sheets that are compatible with the printer of your choice.
Printing Setup: Set your printer up according to the requirements of the material. For the best print quality, select the appropriate paper type and check that the settings are accurate.
Cutting Your Sticker
Precision cutting is vital to achieving a professional-looking sticker. Here's how to do it:
Manual Cutting: For a few stickers, you can opt for manual cutting using scissors or a craft knife. Follow the outline of your design meticulously to ensure accuracy.
Die-Cutting Machine: If you desire a polished finish or have intricate designs, consider using a die-cutting machine. These devices are designed to cut out precise shapes with ease.
Applying Lamination (Optional)
Utilize a laminating machine or adhesive laminating sheets to apply a transparent layer over the printed design. This protective layer guards against wear and tear, making your stickers more durable.
Peeling and Applying
Applying your stickers with care ensures they adhere smoothly and look their best:
Peeling Backing: Gently peel off the backing, revealing the adhesive side of the sticker.
Application Technique: Carefully position the sticker on the desired surface, aligning it accurately. Press down firmly to establish a secure bond and eliminate any air bubbles.
Finishing Touches
If necessary, trim any excess material from the sticker's edges. This step guarantees a neat and polished appearance.
Conclusion
Congratulations! You've successfully created your very own custom stickers. Material quality, design precision, and the accuracy of your cutting all contribute to the outcome. Custom stickers are a simple and interesting way to express yourself and communicate, whether you're personalizing your possessions or increasing the exposure of your company. Accept the creative process, and let your stickers tell the world your tale.
Read Also: From Classic to Contemporary: Exploring Different Bathroom Vanity Styles