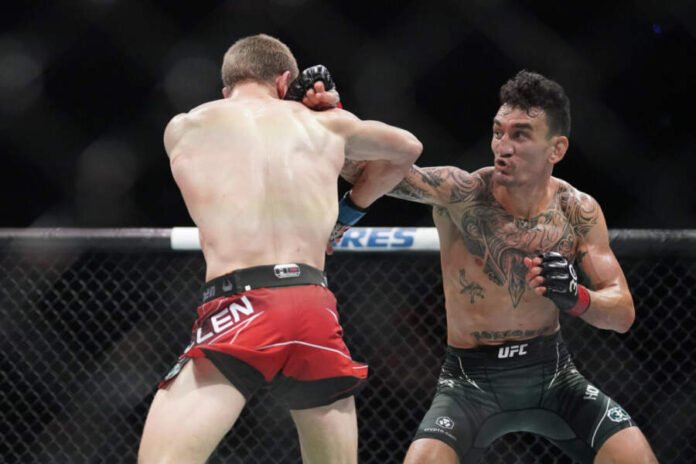 Max Holloway put on a vintage performance at UFC on ESPN 44, earning praise from fellow fighters and fans alike. Holloway dominated Arnold Allen over five rounds, showcasing his striking skills and high-volume output.
Holloway the Blessed
From the start of the fight, Holloway was the aggressor, constantly pushing the pace and landing heavy shots on Allen. Despite Allen's toughness, he was unable to keep up with Holloway's pace and output. 
Max Holloway won a thrilling five-round main event against Arnold Allen at UFC Kansas City. This was Holloway's first victory since losing to Alexander Volkanovski in a title fight. On the other hand, Allen lost for the first time in 11 UFC appearances. The exciting bout was not only enjoyed by fans but also celebrated by fellow fighters on social media.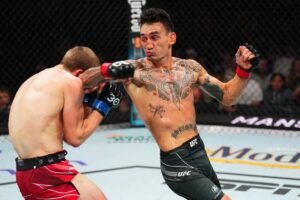 A Barrage of Punches
As the fight wore on, Holloway continued to put on a striking clinic, throwing punches and kicks from all angles and using his footwork to avoid Allen's counters. By the end of the fight, it was clear that Holloway had won a dominant decision victory.
Holloway started strong, throwing lots of punches in quick succession, while Allen tried to catch him with big hits. Although Allen did manage to land a big left hook, Holloway wasn't bothered and kept on punching. 
An Exciting Finish
Throughout the fight, Allen hit Holloway with several stiff left hands, catching him off guard. Towards the end of the second round, Holloway started throwing more body shots, including a punch followed by a kick that made a loud noise.
In the final round, Allen was urged by his coaches to go all out and try to finish the fight rather than leaving it to the judges' scorecards. Although Allen landed some punches, Holloway countered with more strikes.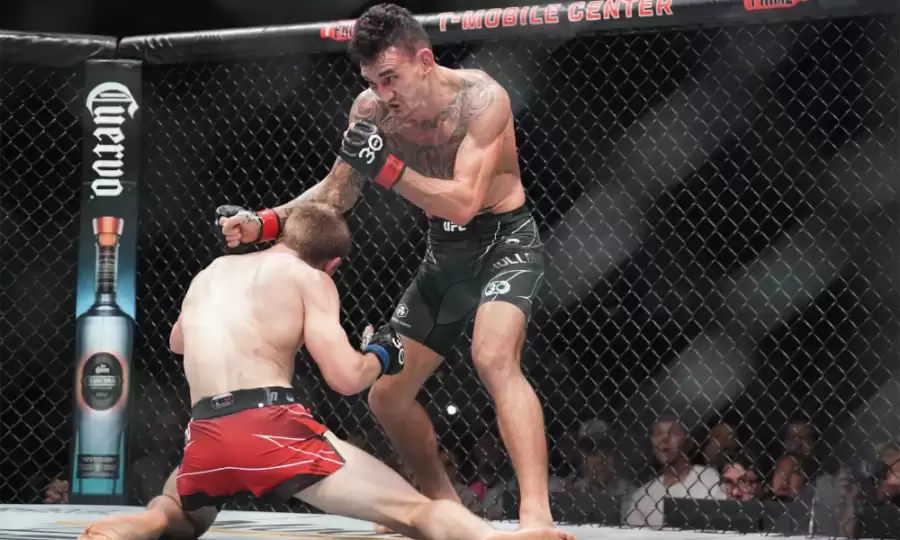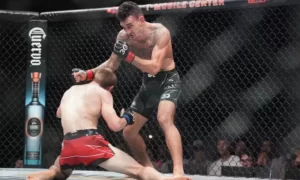 After the Climax
Holloway continued to attack Allen's body with a series of kicks. Allen kept going for the knockout, but Holloway fought back equally. In the end, Holloway knocked Allen to the ground before they hugged and ended the intense fight.
After the fight, even the former champ Volkanovski and other UFC fighters praised Holloway and Allen for their performance. Volkanovski complimented Max for his great fight IQ and experience. Belal Muhammad simply said that "Blessed is back." Other UFC fighters, including Aljamain Sterling, Stephen "Wonderboy" Thompson, and Marlon "Chito" Vera, and boxing trainer Teddy Atlas also praised the fight and the fighters on social media.
Praises all Around
Fight fans and fellow fighters were quick to praise Holloway's performance on social media. UFC welterweight champion Kamaru Usman tweeted, "Max Holloway is the man!" while former middleweight champion Michael Bisping called Holloway's performance "unbelievable."
Even Holloway's opponent, Arnold Allen, had praise for the former featherweight champion. "He's a great fighter," Allen said in a post-fight interview. "He's done it to everyone he's fought. The man's just a different level."
Conclusion
The victory puts Holloway back in the title picture at featherweight, where he previously held the belt for over two years. With current champion Alexander Volkanovski set to defend his title against Brian Ortega in September, Holloway could be next in line for a shot at the belt.
Overall, it was a vintage performance from Holloway, reminding fans and fellow fighters of his elite skills and high-output style. If he continues to perform at this level, it's only a matter of time before he reclaims the featherweight belt.
Also read: How To Get Over A Breakup: Some Effective Tips