Welcome to the era where the traditional boundaries between work and leisure are increasingly fluid. Here's a stat that might make you double-take: 68% of Americans admit to working while on vacation. No, you didn't read that wrong. It's a figure that perfectly captures today's evolving work environment. With a surge in remote work opportunities, the definitions of "vacation" and "work" are undergoing a fascinating transformation. But what happened to real vacation time?
In this post, we'll dive into this trend and introduce you to Storylines MV Narrative, a ship built for today's remote workers and travel enthusiasts.
Work Vacation (Workations) and Business and Leisure (Bleisure) Trips
"Workation" is the marriage of work and paid vacation time, while "Bleisure" is a blend of business and leisure trips. In short, workcations combine work and leisure. These aren't just trendy buzzwords but an actual lifestyle for many people today. Imagine dialing into a conference call with a beach backdrop or drafting reports by the poolside—sounds like a dream, right?
In a world where work-life balance seems like a mythical concept, workations and bleisure trips aim to make that a reality. You handle business in the morning and lounge by the beach in the afternoon. Or you could squeeze in some leisure time between meetings. This isn't the future; it's happening right now.
Workation
A common practice for combining work and vacation time is tapping on extra days for a business trip. For example, let's say work has you traveling to Hong Kong for business – you can ask your boss or HR to push your flight back by a few days or even a week. Your extra time spent there is out of your pocket, i.e., accommodation, food, etc.
Bleisure Trip
The Bleisure trip is taking it further with an extended trip to work remotely. Taking a leaf out of the digital nomad lifestyle, a worker carries a journey to a destination for however long, could be days, weeks or months, and works remotely from that destination.
This likely requires the worker to be in a similar time zone as their employers to make it work. Some businesses only allow their staff to take bleisure trips in their country. However, a sneaky way around this is with the use of VPNs.
Paid Vacation Time
Even American employees with paid vacation days still work while on holidays. However, this has a downside, as it is known to cause work-related stress. After all, there's a reason why employers provide paid vacation time – so their employees can take time off to properly disconnect, recharge and nurture their mental health.
Most businesses even force their staff to take their unused vacation time and use the paid time to rejuvenate, as they know this can improve job performance.
3 Tips for Time Off That's Restful, Not Stressful
Plan Ahead

: Planning is crucial whether you're on a workstation or a bleisure trip. Sync your calendars and mark the "meeting-free zones" during your time off. This ensures you can both chill and fulfill work obligations without stressing.
Set Boundaries

: Always remember you're still on vacation. Even if work is a part of your trip, it shouldn't consume it. Set boundaries by allocating specific hours for work and leisure so you're not always on call.
Equip Yourself

: Ensure you have a solid Wi-Fi connection and a quiet workspace. This ensures that when you work, you're efficient, leaving more room for relaxation and exploration.
Combining the Best of Both Worlds: Storylines MV Narrative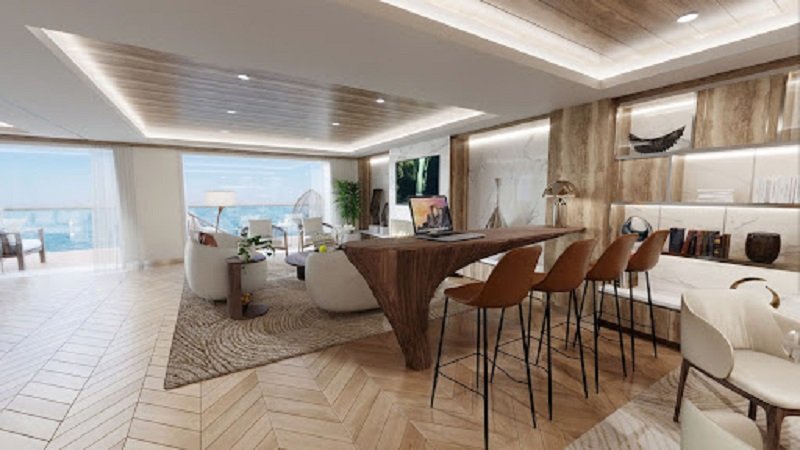 What if there was a way to elevate your workation or bleisure experience to the next level? Enter Storylines MV Narrative—a ship designed for today's remote worker and travel enthusiast. Think of it as your floating office with amenities rivaling any 5-star resort. With Wi-Fi as reliable as any corporate office and co-working spaces overlooking the ocean, it offers the perfect blend of work, business and pleasure.
Onboard, you'll find gourmet restaurants for those business dinners and spa services to unwind after a long day. And let's not forget the itinerary that takes you to some of the most exotic locations worldwide, offering the perfect backdrop for your Instagram or your next Zoom meeting—whichever you prefer. MV Narrative proves you don't have to compromise on work quality or vacation experience.
A Ship Built for Today's Remote Worker and Travel Enthusiast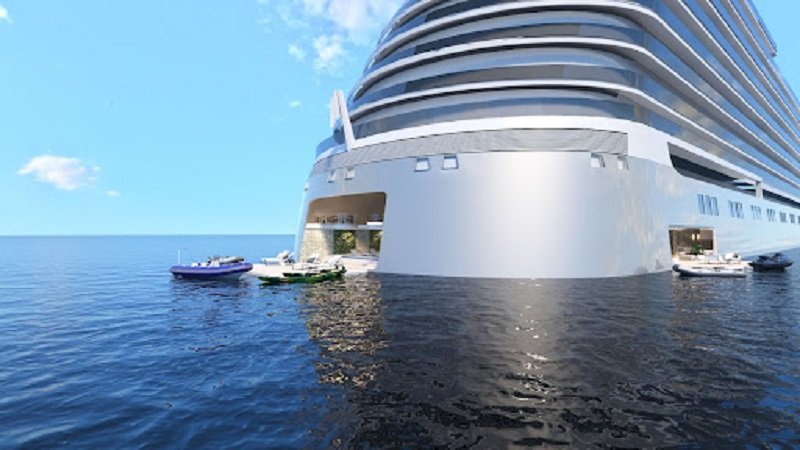 Designed with remote workers in mind, MV Narrative offers high-speed internet, 24/7 tech support, and even designated "quiet zones" when you need to focus. There are also conference rooms and function spaces to invite your clients on board to impress.
On the flip side, for those who are in it for the leisure, it offers:
Curated shore excursions

Onboard entertainment

Fitness centers

Creativity spaces

Movie cinema

Microbrewery
And so much more! There's even a wellness center to nurture your well-being and a medical center for health care.
Have a young family to consider? Not a problem. MV Narrative comes with a world-first, globally traveling school. Onboard education is combined with eLearning and world-schooling to provide your children with a one-of-a-kind worldly education.
It's not just a ship; it's a floating paradise for those who love the freedom and flexibility of being a remote worker but also crave the thrill of travel.
All aboard
So, are you ready to redefine your work-life balance? Are you prepared to turn the tables and make your lifestyle the perfect marriage of productivity and exploration? It's time to experience what the future of travel holds with Storylines MV Narrative. 
Change the narrative; let your story unfold with MV Narrative.
And there you have it! The lines between vacation and work are blurring, and it's about time you get the best of both worlds. Welcome to the future of living, where work and leisure coexist in perfect harmony.
Must Read: A Guide to Chennai to Delhi Air Travel