Asus is a well-known brand in the world of technology and gaming, and they are consistently producing high-quality products that cater to the needs of gamers. One such product is the Asus ROG FX503, which is a gaming laptop that offers a range of features that make it an ideal choice for gamers. If you are considering to buy this laptop then read this article to learn more about it and make a sound decision.
Asus ROG FX503 Specification
Processor

: 7th generation Intel Core i5-7300HQ processor

Graphics

: NVIDIA GeForce GTX 1050 4GB GDDR5 VRAM

Display

: 15.6-inch Full HD (1920×1080) IPS-level panel with anti-glare coating

Memory

: 8GB DDR4 RAM, upgradable up to 32GB

Storage

: 1TB 5400RPM SATA HDD

Operating System

: Windows 10 Home

Keyboard

: Red backlit keyboard with 1.8mm key travel distance

Connectivity

: Wi-Fi 802.11ac, Bluetooth 4.1, Gigabit Ethernet

Ports

: 1 x USB 2.0, 3 x USB 3.0, 1 x HDMI, 1 x RJ45 LAN, 1 x 3.5mm headphone and microphone combo jack, 1 x SD card reader

Battery

: 64Wh 4-cell lithium-ion battery

Dimensions

: 384 x 262 x 24.1 mm (WxDxH)

Weight

: 2.2 kg
Build and Design
The Asus ROG FX503 has a very nice build quality that feels durable and reliable. The metal finish on the lid and the palm rest area gives the laptop a premium look and feel. It got a red backlit keyboard which add a new level to the gaming look of the device and let you game in low light situations.
It is very light weight and thin which make it easy to carry around with yourself. If you are a student then due it slim design it can fit it into your backpack. It has a 15.6 inch screen size which is good for any work. You can easily watch videos or movies, play games, work and much more. Also, it has a thin screen border which gives it a very modern and modern look.
In addition, it has a lot of ports and you can use them in almost all situations. The laptop has three USB ports, HDMI and LAN port as well as audio mic jack combo. Besides that, you get a SD card reader which is especially useful if you a content creator. 
Display
It comes with a 15.6-inch Full HD IPS display, which is a great size for gaming and other multimedia activities. The display has a resolution of 1920 x 1080 pixels, which provides sharp and clear images with vibrant colors. The IPS panel technology used in the display ensures that the viewing angles are excellent, with no color or brightness distortion when viewed from different angles.
The display also has an anti-glare coating, which reduces reflections and makes it comfortable to use for long gaming sessions. If you are someone who play games in low light then it can help reduce the eye strain when seeing the screen.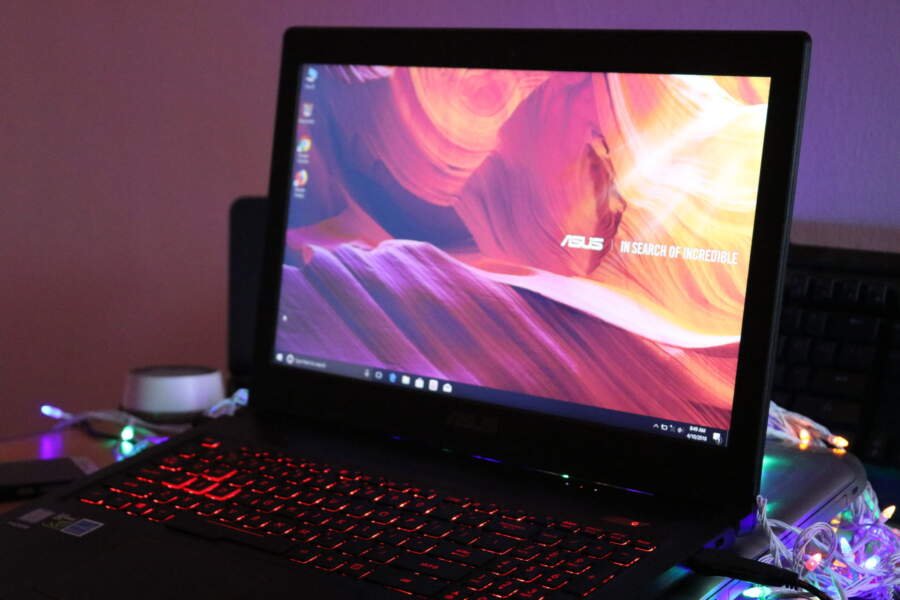 Another great feature of the Asus display is the high refresh rate of up to 120Hz, which allows for smoother and more responsive gameplay. The higher refresh rate is especially useful for games with fast-paced action and rapid movements, such as first-person shooters and racing games.
The display also supports NVIDIA G-SYNC technology, which synchronizes the display's refresh rate with the graphics card's output. This feature helps to reduce screen tearing and stuttering, resulting in a smoother and more immersive gaming experience. 
Performance and Cooling
It is made to deliver top-notch performance for gamers and power users. The laptop is equipped with a powerful 7th generation Intel Core i5-7300HQ processor that can handle demanding games and applications with ease. The processor has a base clock speed of 2.5GHz and can turbo boost up to 3.5GHz when needed, making it a reliable and efficient option for multitasking and gaming.
The laptop also features an NVIDIA GeForce GTX 1050 graphics card with 4GB of GDDR5 VRAM, which provides smooth and responsive gameplay for even the most demanding games. The graphics card also supports Optimus technology, which intelligently switches between the dedicated graphics card and the integrated Intel HD graphics to conserve battery life when necessary.
In terms of memory, it comes with 8GB of DDR4 RAM, which is upgradable up to 32GB. This provides plenty of memory for running multiple applications simultaneously and for running memory-intensive games and programs.
One of the most important features of a gaming laptop is its cooling system, and it does not disappoint in this regard. The laptop is equipped with a dual-fan cooling system that keeps the internal components cool and prevents overheating during intense gaming sessions.
The cooling system features two dedicated heat pipes and a specially designed thermal module that helps to dissipate heat away from the CPU and GPU. This ensures that the laptop stays cool and stable, even during prolonged gaming sessions.
Additionally, Asus ROG FX503 also features the Hyper Cool technology. This combines the dual-fan cooling system with an anti-dust cooling system to prevent dust build up and prolong the laptop's lifespan. The anti-dust cooling system works by expelling dust particles from the cooling system to maintain optimal performance and cooling efficiency.
Keyboard and Touchpad
It features a red backlit keyboard with a 1.8mm key travel distance. This provides a comfortable and responsive typing experience for gamers and other users. The keys are well-spaced and have a good amount of feedback, making them ideal for typing and gaming. The red backlighting adds a stylish touch to the keyboard and makes it easy to use in low-light conditions.
In addition, it features a gaming hotkey that allows users to access the Gaming Center with just one touch. This feature provides easy access to essential gaming settings such as the system settings, fan settings, and performance modes.
This laptop also features a spacious touchpad with a smooth and responsive surface. The touchpad supports multi-touch gestures, which allows users to easily navigate through applications and documents. The touchpad is also equipped with Windows Precision drivers, which provides accurate and responsive tracking for enhanced control.
Ports and Connection
The Asus ROG FX503 comes with a wide range of ports to connect external devices and peripherals. The laptop features three USB 3.0 ports, which provide fast data transfer speeds for external storage devices, and other accessories. It also has a USB port, an HDMI port, LAN port, a 3.5mm combo jack, and an SD card reader.
Battery
The Asus ROG has a 64Wh battery that provides decent battery life. The laptop can last for up to 5 hours on a single charge, which is not bad for a gaming laptop. However, if you're planning on gaming for an extended period, you'll need to plug it in to ensure uninterrupted gameplay.
Who Is This Laptop For?
This laptop is recommended for gamers, content creators, students, and professionals who require a high-performance and efficient laptop. Its powerful processor, dedicated graphics card, high-refresh rate display, and efficient cooling system. This makes it ideal for demanding tasks such as gaming, content creation, and graphic-intensive work. The laptop is also portable, lightweight, and has a long battery life. It makes it convenient for students and professionals who are on the go.
Final Verdict
The Asus ROG FX503 is a laptop that offers a range of features that cater to the needs of gamers. It has a sleek and stylish design, a high-quality display, powerful performance, and an efficient cooling system. The battery life is decent, but it's advisable to keep it plugged in during gaming sessions. If you're looking for a gaming laptop that provides excellent value for money, it is definitely worth considering.
Read Also: Asus VG279Q Detailed Review: Gaming Monitor in Budget