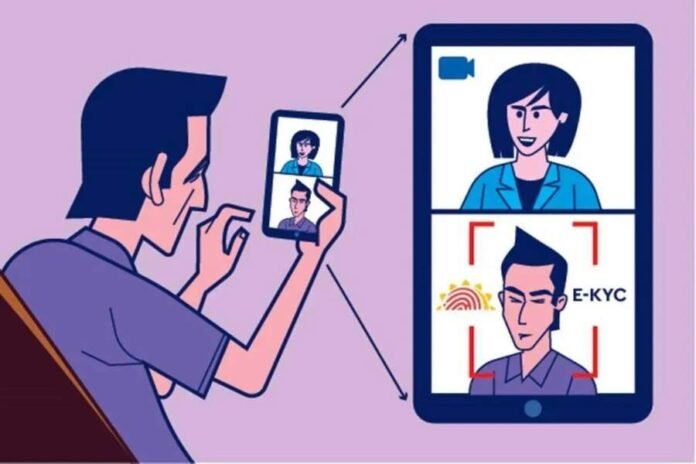 If you want to streamline your remote onboarding process, consider implementing a video KYC solution. Video KYC can offer several advantages, read on to know more.
Introduction
On January 9th, 2020, the Reserve Bank of India (RBI) approved using a Video-Based Customer Identification Process (VCIP) as a valid process for compiling KYC (Know Your Customer) information from the customers and onboarding them. This move is likely to have a positive impact on the financial institutions in India.
The approval of RBI has given birth to the video KYC solution that provides convenience to customers as they can complete their KYC procedure remotely through video calls. The VCIP can also improve the productivity of the onboarding process for financial organizations making it more cost-effective and less time-consuming. 
Therefore, the Reserve Bank of India suggested that financial institutions adopt the video KYC solution to onboard their customers. 
What is a Video KYC Solution?
Video KYC (Know Your Customer) solution is a process of online KYC verification through a video call or remotely with a financial institution representative. It is a quick way for customers to verify their KYC. In this process, they do not need to visit a bank branch to submit their documents, the whole process of verification is done online. 
Video KYC solution enables financial institutions to onboard their customers online, which saves time and costs with manual documents and in-person verification. The verification is conducted using a computer or mobile device. The financial agent will verify the customer's identity by asking them to show their government-issued identities on the video call, such as a passport or driving license.
Steps of Video KYC Solution
The video KYC solution process includes several steps, such as an audio-visual interaction, geo-tagging, and facial matching. These steps have been drafted to make collecting KYC information a simple digital process. The steps of verification are mentioned below: 
Step 1: The official starts the process with a video call
Step 2: The whole meeting and a photo of the customer are captured
Step 3: The customer's Aadhaar card is to be verified 
Step 4: The customer's real-time location is specified by using Geo-tagging technology
Step 5: The official match face of the customer captured in the image is the same as the one on his/her PAN or Aadhaar card. 
 Step 6: Official verify the details in the customer's PAN or Aadhaar. 
Step 7: The official completes the video KYC process
Step 8: The official may now keep the recorded video for future uses 
The whole process is completed within 15 minutes. This digitization is partly responsible for many of the advantages of video KYC for remote onboarding. 
Advantages of Video KYC for Remote Onboarding
Video KYC for remote onboarding offers several advantages for customers and financial institutions. These advantages include: 
Convenience 
Video KYC for remote onboarding enables customers to complete the onboarding process from the comfort of their office or home without physically visiting a bank branch. This saves time and effort and makes the process more convenient. 
Faster Onboarding Process
The video KYC process can be completed in a matter of minutes (10 to 15 minutes), corresponding to the traditional KYC process, which takes many days or even weeks. This results in faster onboarding, which is important in a highly competitive market.
Low Cost 
Video KYC is a cost-effective solution for financial institutions as it does not need a physical presence and manual verification. This saves the time and cost of financial institutions and customers and allows them to onboard customers faster and with fewer resources.
Advanced Security Features
Video KYC for remote onboarding uses advanced security features to reduce the risk of fraud. It includes facial recognition, liveness detection, digital document confirmation, etc. These features make the process more secure and reliable. 
Regulatory Compliance 
Video KYC provides regulatory compliance because it records and monitors the onboarding process, making it easier for financial institutions to maintain records and comply with anti-money laundering (AML). 
Video KYC for remote onboarding provides various advantages for both customers and financial institutions. 
Postscript 
With the advent of advanced digital technologies and the growing popularity of remote working, it is becoming easier for companies to hire remote employees. But for many employers, implementing remote onboarding can be a daunting task. This is where video KYC comes into the picture. A video KYC solution is a solution that deals with the challenges in the traditional KYC process. Institutions are adopting this process, and several platforms .It offers several advantages for both financial institutions and customers, including convenience, faster onboarding, increased security, cost-effectiveness, and advanced security features. It is a secure way of verifying a customer's identity and an ideal solution for the digital era.
Schedule a free demo to discover what swift, seamless, and secure customer onboarding looks like.
FAQs 
What equipment is needed to complete a video KYC process?
To complete a video KYC process, customers need a smartphone or computer, a stable internet connection, and a valid ID card—PAN or Aadhaar.
Is the video KYC solution secure?
Yes, it is a secure way of verifying a customer's identity because it includes advanced security features to reduce the risk of fraud. 
Is the video KYC solution compliant with regulatory requirements?
It complies with regulatory needs such as anti-money laundering (AML) and combating the financing of terrorism (CFT) regulations.
Can Video KYC solutions be used for all types of financial services?
Yes, video KYC solutions can be used for various financial services, such as opening bank accounts, applying for loans, investing in mutual funds, etc.
Read Also: The KYC, Importance and the Process