Sven Magnus Øen Carlsen, popularly known as Magnus Carlsen, born on November 30, 1990, is a chess grandmaster from Norway. He holds the title of five-time World Chess Champion, four-time World Rapid Chess Champion, six-time World Blitz Chess Champion, and the reigning Chess World Cup Champion.
Carlsen earned the title of Grandmaster in 2004. Since July 2011, he has held the No.1 position in the FIDE World Chess Rankings.
The winning of the World Chess Championship, World Rapid Chess Championship, and World Blitz Chess Championship all together in 2014 has made Magnus Carlsen the first player to win all the championships consecutively. 
Watch YouTube:

MVL Meets Magnus Again! Can MVL's Sheer Grit Beat The World #1 in Grand Finals? | AI Cup 2023
Magnus Carlsen Net Worth is estimated at around USD $50 million on the basis of various research. He has earned various tournament prizes and did endorsements for big brands like MasterCard, Instaforex, and Skilling. He has been the co-founder of Play Magnus AS  since 2013, along with his manager Espen Agdetein and Enteurpeneur Anders Brandt, owning 60% shares of the company. 
In 2019, he launched the Offerspill Chess Club in Norway, an online club where regular chess tournaments are held for members to participate. He is also the chairman of the company.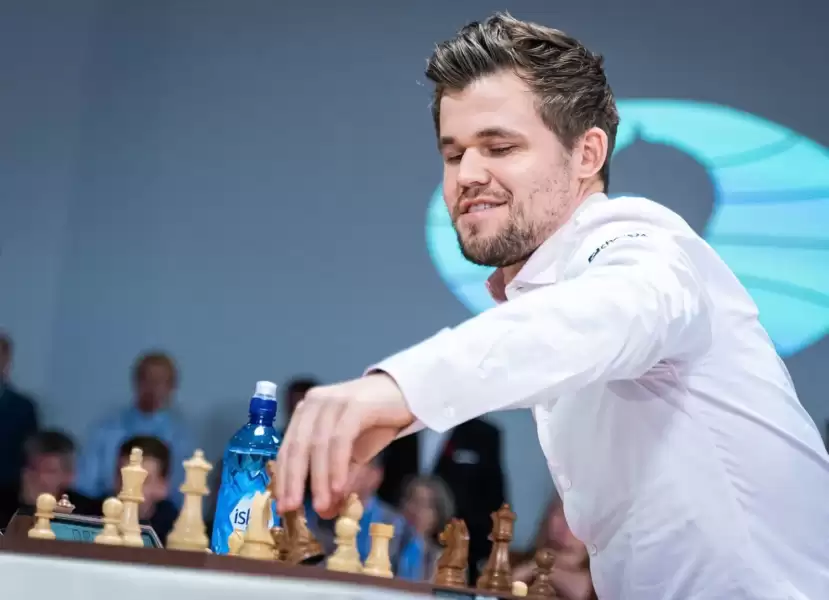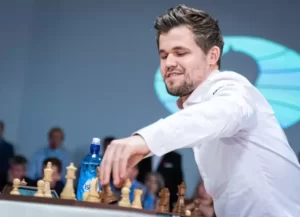 How Old is Magnus Carlsen?
According to his birthday date (born 30 November 1990), Magnus Carlsen is 32 years old as of 2023.
Where is Magnus Carlsen from?
Magnus Carlsen was born in Vestfold, a county in Norway. From a very tender age, Carlsen has shown interest in intellectual challenges. He completed a 500-piece jigsaw puzzle at the mere age of 2 years old. He started playing chess when he was about 5 years old under his father's guidance.
Initially, he had no interest in the game but started playing to beat his elder sister. Furthermore, he began reading chess books and reviewing the gaming skills his father had taught him. Magnus Carlsen played his first tournament when he was just eight years old. He was trained by Simen Agdestein, a seven-time Norwegian Champion, and Tobjorn Ringdal Hansen, the International Master of 2008.
Read Also: Chess World Cup 2023 Ends With A Thrilling Finale Between India and Norway
Magnus Carlsen (@MagnusCarlsen) · Twitter Update
My statement regarding the last few weeks. pic.twitter.com/KY34DbcjLo

— Magnus Carlsen (@MagnusCarlsen) September 26, 2022
Revenge is a dish best not served at all!

I am live right now vs @GMHikaru

— Magnus Carlsen (@MagnusCarlsen) September 25, 2023
Why Isn't Magnus Carlsen Defending His Title?
Carlsen will not defend his World Championship title in 2023 for the sixth time. In his podcast "The Magnus Effect", he has shared his thoughts on not continuing to participate in the World Championship 2023. He has said that he has taken his time to contemplate the decision. And it doesn't ignite him anymore to play for another championship, defending his title for the sixth time. However, he still is passionate about the game, is very much willing to play other tournaments, and has no plan to retire anytime soon. 
He has also mentioned that he would like to compete against some younger players. But he is scheduled to play against Ian Nepomniachtchi, the 32-year-old player whom he has already defeated once in 2021.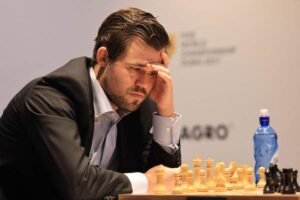 What Is Magnus Carlsen's Playing Style?
Magnus Carlsen has a diverse opening style, making the job of opponents difficult. His mentor, Simen Agdestein, who once used to be his mentor, has said that his style of playing was "a fearless readiness to offer material for activity". As a youth, he was more aggressive in his game, but with time and maturity, he realised it could be risky for him to compete against the elite of the chess world. 
He found it difficult at the beginning of his professional career to get favorable outcomes in the opening. Therefore, to alleviate his game, Carlsen has modified his style to become more universal and capable of playing all kinds of positions well. He opens at 1.d4, 1.e4, 1.c4, and occasionally with 1.Nf3 too. Thus making his opponent's job harder to find out ways to prepare against him using computer analysis. 
Magnus Carlsen's Triple Crown
In 2019, Magnus Carlsen Chess World Cup was defending his championship title. Along with that, he won the Blitz World Championship and Rapid World Championship altogether. That year he got himself the Chess Triple Crown, having all the winning trophies under his belt. Hence it made Carlsen the second player to hold this title of winning all three FIDE titles together in the same year after Susan Polgar in 1996.
Magnus Carlsen has set another record for the longest undefeated streak in chess. From 2018 to 2020, he either won or ended in a draw in 125 games in that winning streak. Finally, in 2020, Jan-Krzysztof Duda,  the Polish chess grandmaster, defeated the Norwegian grandmaster and broke the streak.
Is Magnus Carlsen Autistic?
It has never been confirmed that Carlsen is autistic. However, there are plenty of speculations churning out from his eccentricities off the chessboard. Some have suggested that he might have Asperger's syndrome, a form of autism spectrum disorder where people usually have rigid and repetitive thinking patterns.
In an interview with "The Guardian", Carslen had hinted about his Asperger's diagnosis, defining his interest in things outside of the general social cue. However, later on, on his official website, he addressed his fans and media to confirm that he has no symptoms of Asperger's Syndrome and not that he is autistic.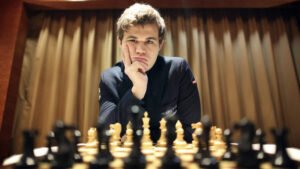 What is Magnus Carlsen's IQ?
The world champion of chess Magnus Carlsen IQ is believed to be 190. He never took any IQ test and officially published any statement on that. His IQ is estimated to be 90 points higher than any average man. It is deduced by analysing his performance and the strategies he uses to play his games.
Being a child prodigy in chess and winning global titles from a very young age confirms that whatever Carlsen's IQ may be, he definitely is a genius.
Magnus Carlsen Controversy
In the September 2022 Sinquefield Cup, Carlsen played opposite Hans Niemann, the American chess grandmaster. After Niemann defeated Carlsen in their third-round matchup, Magnus dropped out of the tournament, giving rise to a cheating controversy. It was one of the most talked about scandals in chess Magnus Carlsen Hans Niemann.
After that, in their next chess meetup in an online tournament, Carlsen abruptly aborted the game after making just one move. This series of incidents ended up garnering a lot of media attention worldwide.
Also read: Dwayne Johnson – Bio, Net Worth, Family, Kids, Wife, Movies, Wrestling