Netflix has finally released the teaser of the film, Extraction 2, and the fans can't stop talking about it. So, the much-awaited sequel of Chris Hemsworth's film is finally coming to the OTT platform, Netflix. The 2020 film Extraction was a hit film for sure and that's why it was a matter of time before we got a sequel of it. Based on the Graphic novel Ciudad, the Extraction is an action-packed film with a high dose of adrenaline rush. It's simply a spectacle for action lovers. So, the audience loved the Mighty Thor in the first film.
So, if you want to know more about this film, then you are in the right place. Here we will mention some key details about the sequel, Extraction 2. Directed by Sam Hargrave, this movie will feature Chris Hemsworth as Tyler Rake, a former Australian special forces operator, who now works as a black ops mercenary. In the first film, e had to rescue an abducted son of a crime lord in Bangladesh. 
Now that we have a teaser of the sequel, there are lots of things to discuss and lots of info is available as well. So, without further ado, it's time to dig into this article and find out about this new Chris Hemsworth film. 
An Overview Of Extraction 2
Extraction 2 movie will follow the events after the first film, that is, Extraction. In the previous film, we saw how Tyler (Chris Hemsworth), a black ops mercenary rescued the abducted son of a Crime Lord in Bangladesh. The film also featured the Indian actor Randeep Hooda. So, let us tell you that the Extraction film is all about high-quality action sequences. 
The first film was full of action-packed scenes that evoked an adrenaline rush in the audience. Needless to say, it was an instant hit. As for the plot of Extraction 2, we don't have exact details available yet. However, we do know that the same director of the first film is returning once again. 
In addition, we will also have Joe Russo as the writer for the Extraction 2 film. Additionally, we shall also have an AGBO production company that will look to expand the Extraction franchise beyond just a sequel. The second movie of Extraction will focus on the events of the first film and address a few untold mysteries. 
Netflix released a teaser trailer for the Extraction sequel film in 2021, September, during the Tudum event. The trailer recaps Rake's final moments and also shows how he got shot and fell into the river. From the teaser, it's apparent that Tyler is very much alive and he will make a comeback in the next movie. On 3rd April, Netflix released another 2-minute trailer of Extraction 2.
Well, the trailer hasn't given anything away story-wise. But, as we guessed it right, Tyler has survived the 1st movie's events and he has made a comeback. In addition, we also saw some cool fight scenes with Rake taking out armed guards. He also fires a machine gun at an enemy helicopter, standing on top of a train.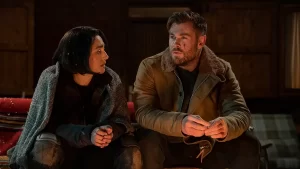 The Extraction 2 Cast
Of course, we will have Chris Hemsworth as Rake in the film. Along with him, we shall also see Golshifteh Farahani as Nik Kha. Moreover, the audience will also see Adam Bessa as Yaz Khan, Olga Kurylenko as Mia, Tinatin Dalakishvili as Ketevan, Andro Jafaridze as Sandro, Daniel Bernhardt as Knostantine, and George Lasha as Sergo. In addition, we will also see Tornike Gogrichiani as Zurab and Levan Saginashvili as Vakhtang. 
The Release Date Of Extraction Sequel
Well, there's some good news for the folks who have been waiting for the Extraction 2 film. Apparently, the film is set to release on 16th June 2023, on Netflix. 
Also read: Top Important Benefits Of Fume Extraction At Workplace